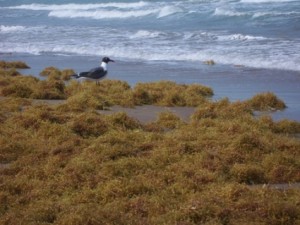 Tomorrow morning, I'm taking an early flight to Bozeman, Montana, after which I'll be spending the bulk of this week in and around
Yellowstone National Park
—which I've never before had the delight of exploring in the wintertime. To say that I'm excited about this particular trip would be an understatement, and yet, at the same time, I'm feeling both a little nervous and a little sad.
I say "nervous" because my husband, Dan, and I usually opt for road trips over other forms of transportation, meaning that it's been a while since I've boarded a plane and, given today's tighter security measures, I'm understandably concerned that I've packed all wrong. Since it's not a direct flight, I'm unwilling to check my baggage, which means that I've had to squeeze all my winter gear and sundries into one small carry-on and a shoulder bag. The Leatherman and cosmetic scissors that I'm used to carrying in my purse must be left behind; no bottle can contain more than 3.4 ounces of liquid; and I've made sure to pack only one book of matches. With any luck, the rules that I found on the Transportation Security Administration website are accurate—and I'll pass through the New Orleans International Airport's security checkpoint without having to surrender any of my precious belongings.
Even if the flight goes smoothly, though, I'll still be a little sad—and that's because Dan, my constant traveling companion, won't be going with me this time. Neither will my beloved kitty, Ruby. Of course, I'll survive their absence (despite cold temperatures that, being a New Orleans native, I'm not exactly used to)—and of course, I'll relish frolicking in and around America's first national park—but somehow, the trip won't be the same without my two best friends.
Nevertheless, I'm sure that I'll have lots to share with you—and them—when I return next weekend. In the meantime, though, I thought I'd offer you five helpful travel tips, courtesy of Bob Rogers, the co-founder of DealAngel, a new hotel search engine that allows users to discover the true market value of hotel rates at thousands of properties around the world. Hopefully, these tips will enable you to save some time, money, and aggravation during the upcoming Spring Break travel season. "Spring Break?!" you might be asking. "But it's still winter, and the Super Bowl hasn't even happened yet!" True enough, but seeing as I'm about to freeze my you-know-what off in Montana, I'm certainly open to thoughts of Spring Break. Who knows? Maybe Dan and I will make a spontaneous trip to South Padre Island, one of our favorite Spring Break destinations!
So, without further ado, here are DealAngel's five hassle-saving tips:
Hint #1—Avoid the mass migration—Of course, easier said than done. If you still haven't done so, try to book flights that are a little out of the mainstream—i.e., get that extra early morning one, or try to leave on or before March 7th. From March 8th, prices for flights go sky-high and just keep climbing in altitude every day you wait due to Spring Break. March 31st is another option, if you aren't very religious and don't mind skipping Easter services.
Hint #2—Don't just go with the flow—Same principal goes when you're driving over Spring Break: Getting up seriously early can be a major effort, especially with kids in tow, but man, once you hit the open road, the resulting reduction in stress makes it easily worth it. Try to time your drive so that you pass any major cities outside of rush hours. And make regular stops to stretch and get fresh air.
Hint #3—Don't spend it all in one place—Some cities are crazy for Spring Break (Miami Beach, Puerto Vallarta, Cabo San Lucas); others are more quiet (San Diego, Houston, Boston). A 5-star hotel in Miami Beach can run up to $570/night over Spring Break; a mid-range hotel more frequented by business travelers is dis-proportionately cheaper. In colder climate destinations, you can get the same quality 5-star hotel for $150/night! So, if it's more about the pampering than playing beach volleyball, go to a city nearby and have a "stay-cation" in a swanky hotel. And if you must go to a "hot" destination, go frugal, and save that money for when a luxury stay gives you much more bed for your buck.
Hint #4—Drive a hard bargain—You need to be VERY careful when you rent a car these days. Like low-cost (and even not so low-cost) airlines, every little thing is charged for, and the final cost may bear little resemblance to the initial price after you add insurance this, third party that, airport surcharge this, non-airport surcharge that, GPS, pre-paid fuel, etc., etc. Check to see if your credit card can cover the insurance, as sometimes the insurance can end up costing more than the car. And if you can, use your phone GPS navigation rather than what is offered. Waze is a free navigation app for the iPhone. Buy a holder and charger, and you're all set.
Hint #5—Delay gratification—Probably the best way to survive the Spring Break rush is to stay at home or at least in your hometown, invite some friends over, and just have some local fun. The period immediately after Spring break, the April "Dead Zone," is considered the cheapest period of the season for both flights and hotels in warmer climes. So, why not keep the party local and head to the beach over a long weekend in April?
I trust that DealAngel's commonsensical tips will prove useful to you when planning your next trip, no matter when you decide to travel. If, however, you are hoping to go somewhere for Spring Break, which destination do you have in mind?