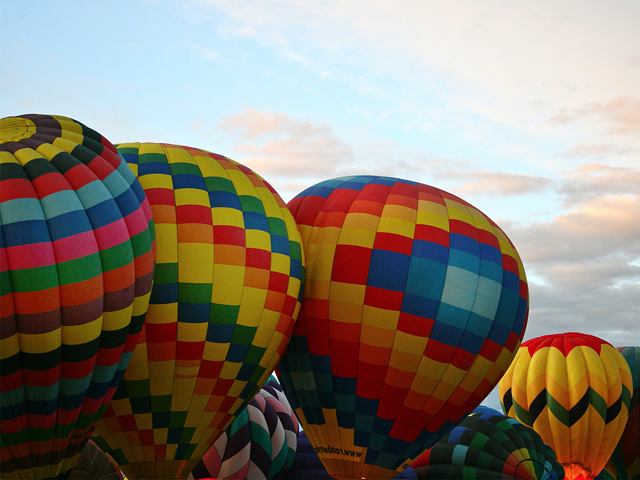 When autumn settles over New Mexico, it brings crisp temperatures, clear skies, and brilliant colors, especially to the cool mountains. Therefore, fall is a great time to visit and enjoy a number of festivals and events in this southwest state. From the dazzling hues of the Albuquerque International Balloon Fiesta to the delicious tastes and smells of the Santa Fe Indian Market, to the engaging songs of the Pueblo ceremonial dances, there are exciting events to please every type of traveler around this time of year.
Albuquerque
The city's biggest annual event is the Albuquerque International Balloon Fiesta (505/821-1000), nine days in October dedicated to New Mexico's official state aircraft, with more than 700 hot air balloons of all colors, shapes, and sizes gathering at a dedicated park on the north side of town, west of I-25. During the fiesta, the city is packed with "airheads," who claim this is the best gathering of its kind in the world. If you go, don't miss an early-morning mass ascension, when the balloons glow against the dark sky, then lift silently into the air in a great wave. Parking can be a nightmare—take the park-and-ride bus, or ride a bike (valet parking available!).
Just after Labor Day, the state's agricultural roots get their due at the New Mexico State Fair, two weeks of fried foods and prizewinning livestock. It's the usual mix of midway craziness and exhibition barns, along with really excellent rodeos, which often end with shows by country music legends.
Around November 2, don't miss the Marigold Parade (505/363-1326), celebrating the Mexican Day of the Dead. The parade through the South Valley is a procession of skeletons and cars bedecked in flowers.
Santa Fe
Santa Fe's biggest annual event is in late August, when 100,000 visitors come for Santa Fe Indian Market (505/983-5220). The Indian Market is centered on the plaza, with some 1,200 Native American artisans selling jewelry, pottery, weaving, and more, in traditional and wildly modern styles. It's a bit of a frenzy, but also festive, due to free music and dance performances. After all the frenzy of summer tourism, locals celebrate the arrival of fall with the Burning of Zozobra, a neo-pagan bonfire on the Friday after Labor Day. The ritual kicks off the weeklong Fiesta de Santa Fe (505/204/1598), which has been celebrated in some form since 1712. It begins with a reenactment of De Vargas's entrada into the city, then a whole slew of balls and parades, including the Historical/Hysterical Parade and a children's pet parade—eccentric Santa Fe at its finest. Some downtown businesses close for some of the time, particularly on Zozobra day.
Taos
Taos's biggest annual festivity (for which many local businesses close) is the Feast of San Geronimo, the patron saint assigned to Taos Pueblo by the Spanish when they built their first mission there in 1619. The holiday starts the evening of September 29 with vespers in the pueblo church and continues the next day with footraces and a pole-climbing contest. La Hacienda de los Martinez usually reenacts a 19th-century Taos trade fair, with mountain men, music, and artisans' demonstrations.
Taos galleries put out their finest at the Taos Fall Arts Festival, a two-week-long exhibition in late September and early October that shows the works of more than 150 Taos County artists. On the first weekend in October, the Taos Wool Festival has drawn textile artists as well as breeders since 1983. Admire the traditional Churro sheep or an Angora goat and then pick up a scarf made from its wool.
Ceremonial Dances
This is only an approximate schedule for ceremonial dances at pueblos in the Albuquerque, Santa Fe, and Taos areas—dates can vary from year to year, as can the particular dances. Annual feast days typically involve carnivals and markets in addition to dances. Confirm details and start times—usually afternoon, but sometimes following an evening or midnight Mass—with the Indian Pueblo Cultural Center (505/843-7270) before setting out.
August 2 – Jemez Pueblo: Feast of Santa Persingula
August 9-10 – Picurís Pueblo: Feast of San Lorenzo
August 12 – Santa Clara Pueblo: Feast of Santa Clara
August 15 – Zia Pueblo: Feast of the Assumption of Our Blessed Mother
September 4 – Isleta Pueblo: Feast of Saint Augustine
September 8 – Isleta Pueblo: Feast of the Nativity of the Blessed Virgin
September 8 – San Ildefonso Pueblo: corn dance
September 29-30 – Taos Pueblo: Feast of San Geronimo
October 4 – Nambé Pueblo: Feast of San Francisco de Asís
November 12 – Jemez and Tesuque Pueblos: Feast of San Diego
---
Excerpted from the Ninth Edition of Moon New Mexico.