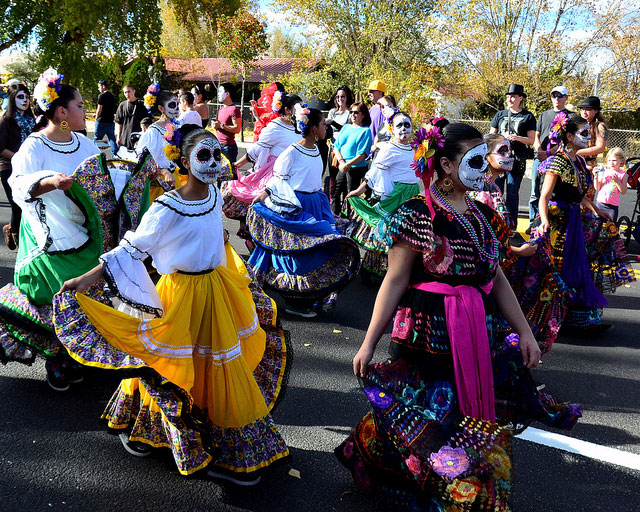 The city's biggest annual event is the
Albuquerque International Balloon Fiesta
(505/821-1000), nine days in October dedicated to New Mexico's official state aircraft, with more than 700 hot air balloons of all colors, shapes, and sizes gathering at a dedicated park on the north side of town, west of I-25. During the fiesta, the city is packed with "airheads," who claim this is the best gathering of its kind in the world. If you go, don't miss an early-morning mass ascension, when the balloons glow against the dark sky, then lift silently into the air in a great wave. Parking can be a nightmare—take the park-and-ride bus, or ride a bike (valet parking available!).
In April is the equally colorful Gathering of Nations Powwow (505/836-2810), the largest tribal get-together in the United States, with more than 3,000 dancers and singers in full regalia from over 500 tribes crowding the floor of the University Arena. Miss Indian World earns her crown by showing off traditional talents such as spearfishing or storytelling.
Labor Day weekend is dedicated to the New Mexico Wine Festival (505/867-3311), in Bernalillo. It's well attended by a wide swath of Burqueños; the Rail Runner train runs on a special schedule, sparing stress on designated drivers.
Just after Labor Day, the state's agricultural roots get their due at the New Mexico State Fair, two weeks of fried foods and prizewinning livestock. It's the usual mix of midway craziness and exhibition barns, along with really excellent rodeos, which often end with shows by country music legends.
Around November 2, don't miss the Marigold Parade (505/363-1326), celebrating the Mexican Day of the Dead. The parade through the South Valley is a procession of skeletons and cars bedecked in flowers.
---
Excerpted from the Ninth Edition of Moon New Mexico.