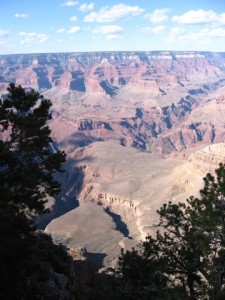 In my last post, I mentioned some of the most memorable road trips that I've experienced over the years. Although I find it hard to settle on my absolute favorite, I'll admit that one of the most inspiring trips I've ever shared with Dan, my beloved hubby and preferred traveling companion, was the RV excursion that we once took on Interstate 40 (I-40), between Nashville, Tennessee, and Williams, Arizona. In the first half of this two-part post, I described five of our favorite attractions along this route: Beale Street in Memphis, Tennessee; Hot Springs National Park and Crater of Diamonds State Park in western Arkansas; the Big Texan Steak Ranch in Amarillo, Texas; and Palo Duro Canyon State Park about 27 miles southeast of Amarillo.
Here, as promised, are five more attractions encountered during our long-ago, I-40 journey:
Santa Fe, New Mexico:
Santa Fe Convention and Visitors Bureau, 201 West Marcy Street, Santa Fe, New Mexico, 800/777-2489, 8 a.m.-5 p.m. Monday-Friday
From Amarillo, Dan and I headed west on I-40 to Albuquerque, the largest city in the state of New Mexico. While here, we took a side trip to Santa Fe, at once the state capital, an artists' colony, and a town that embodies New Mexico's nickname, the Land of Enchantment. Brimming with creativity, Santa Fe is a dreamy, magical place, nestled amid the Sangre de Cristo Mountains and filled with adobe-style buildings, numerous art galleries, elegant restaurants, and charming bed-and-breakfasts. While we relished strolling along the quaint streets of this seemingly remote city, Dan and I were also struck by the dramatic beauty of the surrounding landscape – which is ideal for hikers, cyclists, rafters, skiers, and other outdoor enthusiasts.
---
Continental Divide:
Continental Divide Trail Alliance, 1200 Arapahoe Street, Golden, Colorado, 303/278-3177
Near Grants, New Mexico, we encountered the Continental Divide, which, though signified by a simple brown sign, still evoked a feeling of reverence and wonder. Interestingly, this particular spot also lies along the Continental Divide National Scenic Trail (CDNST), a 3,100-mile primitive (and challenging) backcountry trail that extends from Canada to Mexico, along the backbone of the North American continent. Also known as the "King of Trails," this scenic route, which was designated by the U.S. Congress in 1978, passes through five unique states – Montana, Idaho, Wyoming, Colorado, and New Mexico – and crosses several natural treasures, including Glacier National Park, Yellowstone National Park, Grand Teton National Park, Rocky Mountain National Park, and El Malpais National Monument.
---
Petrified Forest National Park:
1 Park Road, Petrified Forest, Arizona, 928/524-6228, 7 a.m.-6 p.m. daily March to April and September to October, 7 a.m.-7 p.m. daily May to August, 8 a.m.-5 p.m. daily November to February, $10 per vehicle, $5 per pedestrian, bicyclist, and motorcyclist
After crossing the New Mexico border, we continued west through northern Arizona. Between Navajo and Sun Valley, we soon found ourselves near Petrified Forest National Park, a surprisingly beautiful place that doesn't get nearly as much attention as one of Arizona's other natural treasures: Grand Canyon National Park. Impressed by the kaleidoscopic badlands of the Painted Desert, we also appreciated the numerous historic structures, archaeological sites, and fossil displays here, not to mention one of the world's largest and most colorful concentrations of petrified wood – enormous pieces of which seem to pepper the stark landscape. Just remember, as the omnipresent signs indicate, it is illegal to take any of these pieces – no matter how small – home with you, so be content with photographs and memories, and leave the petrified wood for other generations to enjoy.
---
Flagstaff, Arizona:
Flagstaff Convention & Visitors Bureau, 1 East Route 66, Flagstaff, Arizona, 928/774-9541 or 800/379-0065, 8 a.m.-5 p.m. Monday-Saturday, 9 a.m.-4 p.m. Sunday
Past Winslow, Arizona, we encountered the mountain town of Flagstaff, a truly charming place to stop for a while. While our RV cooled down in a truck stop, we decided to explore the historic downtown area, where various art galleries, enticing boutiques, Native American shops, outdoor outfitters, eateries, and microbreweries dwell amid the 19th-century streets. Besides the downtown area, though, you'll also find other worthy attractions here, such as the impressive Museum of Northern Arizona, the fascinating Lowell Observatory, and the Arts and Crafts-style Riordan Mansion State Historic Park. In addition, three national monuments lie within 10 to 33 miles of Flagstaff: Walnut Canyon National Monument, Sunset Crater Volcano National Monument, and Wupatki National Monument.
---
Grand Canyon National Park:
South Rim Visitor Center, Grand Canyon Village, Arizona, 928/638-7888, 8 a.m.-5 p.m. daily, $25 per vehicle, $12 per pedestrian, bicyclist, or motorcyclist
Though ultimately headed for Las Vegas, we decided to make a northerly detour at Williams, Arizona. How could we, after all, pass up a chance to witness a sunrise over the Grand Canyon, one of America's most incredible sights? Needless to say, we weren't disappointed. There's just nothing like standing along the South Rim, watching the glistening, emerald-hued Colorado River as it snakes between the multilayered, reddish-brown cliffs that define the Grand Canyon, an ancient formation that many consider to be one of the Seven Natural Wonders of the World. Experiencing that incredible place was truly one of the more breathtaking moments of our journey – something that everyone should get the chance to embrace, at least once in his or her lifetime. Besides sightseeing, popular activities here include hiking, rafting, camping, wildlife watching, and taking a mule trip down into the canyon itself. Be advised that, while the South Rim is open 24 hours daily year-round, the North Rim, due to inclement weather, is only accessible from May to October.
While I hope that my road trip memories have inspired you to hit the highway soon, I can't help but ask: what's your most memorable road trip? And while you're thinking about that, consider entering Moon's current contest. To win an 8GB iPod Nano and a Moon guidebook of your choice, simply tell Moon (via the Moon Staff blog post, Facebook, or Twitter) which song most makes you want to hit the road. For me, it's Willie Nelson's "On the Road Again," although Bob Seger's "Roll Me Away" is a close second.
← Read Part One