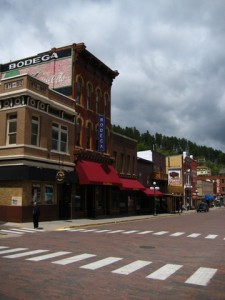 For the past few weeks or so, I've had to focus much of my time on proofing the maps and text for the third edition of
Moon New Orleans
—hence, the slow progress of my latest blog series. After all, reviewing the page proofs of an upcoming guidebook can be a rather tedious process, especially for a perfectionist like me, who strives to re-check every last detail (which, admittedly, is an often impossible feat in the time allotted). Still, no matter how time-consuming the proofing process can be, I'm always delighted to see, following months of hard work, all the photos, maps, and text laid out—and rather close to being a completed guidebook, ready for publication.
Now, however, that the editorial process for Moon New Orleans is behind me, I'm more than eager to share with you the rest of my favorite small American towns. In the most recent part of this series, I promoted three towns along or near the West Coast: Astoria, Oregon; St. Helena, California; and Bisbee, Arizona. Of course, there are plenty of other Western towns (with, as I previously stipulated, a population of less than 10,200) that crossed my mind before writing that post; some of these (such as Cannon Beach, Oregon; Ojai, California; and Virginia City, Montana) were even lauded by fellow travelers on Moon's Facebook and Twitter pages.
But, alas, I couldn't list them all. Still, while it's never easy to pick one's favorite small towns in a country as multifaceted as the United States, I must confess that, if I had to name three more of my favorite such travel-friendly destinations in the Western and Midwestern regions of the country, I could hardly go wrong with the following three:
Park City, Utah
As I've previously mentioned in a post about the Sundance Film Festival, I've long been a fan of Park City, an upscale resort town situated in the Wasatch Mountains southeast of Salt Lake City. Indeed the recreational heart of the Beehive State and once site of the 2002 Winter Olympics, Park City is a popular place for wintertime skiing as well as summertime activities like golf, fishing, camping, hiking, and mountain biking, among other outdoor diversions. Of course, this former 19th-century silver-mining town—with a current population of more than 8,700—is equally celebrated for its picturesque downtown district, filled as it is with art galleries, eclectic boutiques, and delectable restaurants, not to mention the Park City Museum, an engaging historical museum on Main Street. No wonder Park City is home to the annual Sundance Film Fest.
For more information about Park City, consult W. C. McRae and Judy Jewell's Moon Utah. Outdoor enthusiasts might also appreciate Mike Matson's Moon Utah Camping.
Ketchum, Idaho
With popular neighbors like Washington, Oregon, Nevada, Utah, Wyoming, and Montana, Idaho seems to get overlooked by many travelers to the Western part of America, but it would indeed be a mistake to bypass the oddly-shaped Gem State. A particularly worthy destination lies roughly 150 miles east of Boise, along the southern fringes of the Sawtooth National Forest. With less than 3,400 people, the former 19th-century silver-mining town of Ketchum is actually a year-round recreational destination—the gateway to the Sawtooth National Recreation Area, a gorgeous, mountainous landscape popular for fishing, boating, hiking, and horseback riding. The nearby Sun Valley Resort is also a draw for outdoor enthusiasts, including golfers, anglers, hikers, mountain bikers, horseback riders, and cross-country skiers; other diversions include heated pools, a fitness center, a day spa, sleigh rides, ice shows, ice-skating rinks, specialty shops, and varied eateries.
If you happen to be in Ketchum during Labor Day weekend, you can embrace the town's pioneer heritage by watching the annual Wagon Days, the Pacific Northwest's longest non-motorized parade. No matter the time of year, though, history buffs can pay a visit to the engrossing Ketchum Sun Valley Ski and Heritage Museum in the town's historic downtown district; in addition to rotating exhibits, the museum houses permanent displays that explore such topics as Ernest Hemingway's time in Idaho and the history of skiing in America. For more information about Ketchum, consult James P. Kelly's Moon Idaho. If you're particularly curious about outdoor pursuits, consider Becky Lomax's Moon Montana, Wyoming & Idaho Camping.
Deadwood, South Dakota
Though some might accuse it of being a bit too touristy these days, Deadwood (pictured above) is a must-see destination for anyone exploring the fabled Black Hills of South Dakota. A former gold-mining camp, Deadwood was one of the most notorious towns in the Wild West; after all, it's where the infamous gambler and gunfighter "Wild Bill" Hickok met an untimely end at the hands of fellow poker-player Jack McCall. Designated a National Historic Landmark in 1976, Deadwood might only have a year-round population of roughly 1,270, but that doesn't mean it's lacking in diversions worthy for travelers. Besides the historic downtown district, which features places like Saloon No. 10, a museum-like restaurant and bar named after the joint where Hickok died, visitors can tour an assortment of museums, historic houses, and important sites, including the Mount Moriah Cemetery, where Hickok and Calamity Jane are now buried. Here, visitors can also enjoy narrated tours, several casinos and unique shops, and historical reenactments. For more information about Deadwood, consult Laural A. Bidwell's Moon Mount Rushmore & the Black Hills.
So, as I've asked in my previous post, have you ever visited any of these old mining towns? If so, do you agree with their inclusion on this list? And if not, why not?
In the meantime, stay tuned for my next post, which will highlight three more of my favorite small towns, spread across the Western, Midwestern, and Southern regions of the United States.