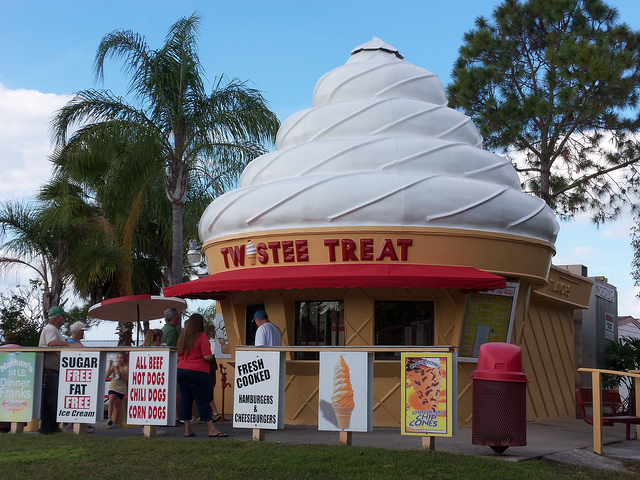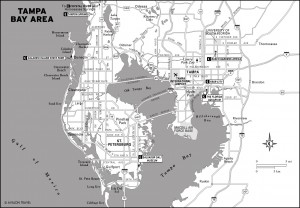 The Tampa Bay area has undergone something of a fro-yo invasion in the past two years, with Pinkberry clones and top-your-own emporiums dotting strip malls on both sides of the bay. And gelato seems to have carved itself a foothold, from Paciugo in St. Petersburg to the equally delicious Gelateria del Duomo at International Plaza. But let us pay homage to the old-fashioned independent ice cream parlor, preferably with a walk-up window, a splintery picnic table, and swirled soft-serve dipped in warm chocolate to make an instant shell that still seems magical.
Bo's (7101 N. Florida Ave., Tampa, 813/234-3870) has been around for 50-plus years. The guys behind the counter aren't speedy, so you may find yourself striking up a conversation while enduring the dense fog of mosquitoes and no-see-ums. There are diehard fans of the upside-down banana split (served in three sizes, from doable to truly unsettling to think about): sliced banana, ice cream, hot fudge, pineapple topping, whipped cream, nuts, cherries, and so forth, all rammed deep in a Styrofoam cup.
Dairy Joy (3813 S. Manhattan Ave., Tampa, 813/839-5485) has stayed the course over time, with vanilla, chocolate, and twist soft-serve at the core. In recent years they've added 10 flavors of hard ice cream, with sno-cones for the kids and a quarter-pound beef hotdog. The banana split is a big seller, with several variations, and waffle bowl sundaes are nearly as popular.
Dairy Kurl (1555 Gulf-to-Bay Blvd., Clearwater, 727/446-1549) is a classic soft-serve palace where not much has changed in decades, including the sticky picnic tables and the owner. Soft-serve can be dipped, sprinkled, sauced (the peanut butter sauce rules), or blended with candy as a shake. These are all good options.
Old Farmer's Creamery (2531 4th St. N., St Petersburg, 727/896-2827) looks just like the Fisher-Price red barn with white trim. It's not cheap, but they make their own ice cream in a huge range of flavors (plenty of chocolate permutations), with tons of brightly colored kiddie flavors. The young counter staff contends ably with crowds despite what must be some harrowing scooper's arm (think carpel tunnel but a little colder).
Twistee Treat (6900 Gulf Blvd., St. Pete Beach, 727/367-7690) is a beacon, shaped like a giant vanilla twisty soft-serve. It's so visually arresting it starred briefly in the James Franco vehicle Spring Breakers. They go light on the hard ice cream (8 flavors) and have a soft-serve machine to which they can add 66 different flavors. Twistee is also dip-crazy, with a traditional chocolate dip, caramel, and even cherry.
---
Excerpted from the Second Edition of Moon Tampa Bay & St. Petersburg.