Where the Heart Is: Tampa Bay's Most Romantic Spots
TIME : 2016/2/16 15:56:29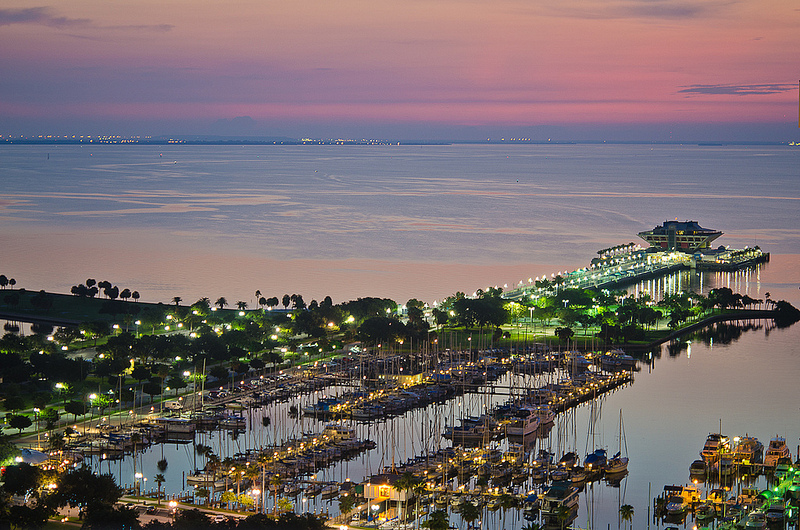 There's been a lot of talk about some crafty chemical in chocolate simulating the feeling of being in love. Who knows if that's true, but chocolate is indubitably a good way to begin an amorous foray. Even more so if it's Chocolate-Chocolate-Chocolate. That's actually the name of the demure chocolate-shellacked cylinder packing chocolate cheesecake, chocolate mousse, and chocolate pie into one deadly package served with aplomb at
Harry Waugh Dessert Room
at Bern's Steak House. And if the romance leaves you cold, the sheer quantity of sugar, high-octane coffee, and gorgeous after-dinner drinks are bound to give you a little thrill.
On the other hand, nothing gets the heart pumping like a brush with danger. Big Cat Rescue, the world's largest accredited sanctuary for big cats, lets you and your sweetie stay overnight with the jaguars and snow leopards. Just hope you're not breakfast in bed. On the third hand (now that's extremely handy), Skydive City in Zephyrhills (in Pasco County, to the north of Tampa) is one of the world's most famous "drop zones." Why here? According to owner T.K. Hayes, "It's in the middle of nowhere, with not a single picturesque thing about it. It's really about the people—Zephyrhills is the largest skydiving place in the world." Tandem jumping (where a rookie jumps physically harnessed to an instructor) has opened skydiving up to people who might never have otherwise taken the plunge.
Then again, you could take to the sea. Ahoy, mates and would-be mates. Climb aboard Yacht StarShip, Tampa's premier dining yacht, while the sunset casts its sherbet hues across the Bay.
So far, this is mostly stunt-romance. For Old School champagne-and-caviar, culminating in good bed linens and discreet room service, head to the Renaissance Vinoy Resort & Golf Club, St. Petersburg's exquisitely restored Mediterranean Revival resort that exudes the kind of rarefied glamour that helps put life's quotidian woes behind you.
---
Excerpted from the Second Edition of Moon Tampa & St. Petersburg.
---
Maps of Tampa & St. Petersburg
Florida
Tampa Bay Area
Tampa
St. Petersburg Clearwater and the Beaches
St. Petersburg
Looking for more printable maps of Florida?
All Florida Maps →