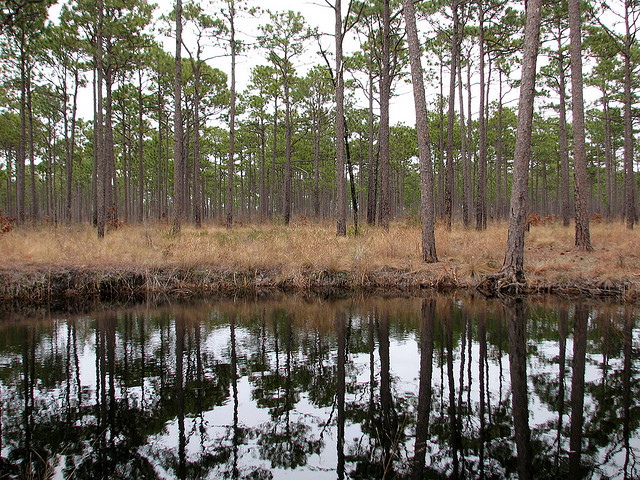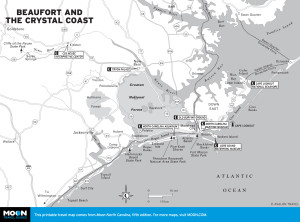 Long before you smell the ocean salt on the air, you can feel the ocean drawing near. The sky seems wider and it takes on a deeper shade of blue. Hardwoods and hills give way to towering pines and flat fields, and then more and more water—creeks, wetlands, and widening rivers. Somewhere between Kinston and New Bern, still an hour's drive from the beaches and sounds of Carteret County, you can sense the Atlantic.
Along the Crystal Coast, as North Carolina's central coast is known in tourism literature, you'll find New Bern and Beaufort, two old North Carolina towns that were centers of colonial commerce and access to the Atlantic. These two towns are beautifully preserved, with great examples of historic commercial and residential architecture dating as far back as three centuries, including one home believed to have belonged to the dreaded pirate Blackbeard.
The Neuse River winds through pine forests, passing Kinston—a town with an unusual Civil War past and a food scene that's more than worth the visit—and widening as it enters the coastal plain, feeding the primeval forest, creeks, hidden lakes, and tiny towns in the Croatan National Forest. To the northeast, the Cedar Island National Wildlife Refuge is a vast swath of marshes, gradually easing into the Pamlico Sound, where Cape Lookout National Seashore shelters the mainland from storms. Along the seashore are miles of beach where the only occupants are wild horses, the Banker ponies, and the beautiful diamond-patterned Cape Lookout Lighthouse. You won't find homes here. Portsmouth Village, a once-thriving whaling port washed away by a series of storms, is now nearly empty except for seagulls.
Sometimes people in North Carolina refer to any part of the coast, from Wilmington to Nags Head, as "Down East." In the truest sense of the term, Down East refers to northeast Carteret County, the area north of Beaufort. Here the islands, marshes, and towns bordering Core Sound are undergoing colossal cultural shifts as people from "up North" (meaning "anywhere but here") move into the area and local youth leave generations of family life for greener economic pastures. Changes in global trade and in the environment have made traditional maritime occupations like fishing and shrimping untenable. Nonetheless, Down Easterners work to preserve the treasure of their home, the Core Sound, with conservation and historic preservation as well as folkways education. Witness the Core Sound Waterfowl Museum on Harkers Island, where community members have assembled an interesting collection of family photos, quilts, baseball uniforms, oyster knives, net hooks, and other treasures to tell their story.
When to Visit Beaufort and the Crystal Coast
Beach-season rules apply along the coastal areas and river towns, meaning that prices increase dramatically between Memorial Day in May and Labor Day in early September. Conversely, prices drop to rock bottom during the off-season. Visiting during shoulder seasons can mean warm water, empty beaches, and no waiting for restaurant tables, but your accommodations and dining choices can be limited, particularly in smaller towns.
When you visit, try the fresh local seafood. To ensure you're getting the best local catch, North Carolina Sea Grant provides downloadable cards and information on the seasonally fresh seafood caught in the area.
Across the Southeast, late summer and early autumn are hurricane season. The paths of hurricanes can be quite unpredictable, so if you're planning a week at the beach at this time of year, be aware that even if reports say a storm will dissipate over Cuba, that doesn't mean it won't turn into a hurricane and head for the Carolina coast. Chance are that you'll have sufficient warning before any major storm, but it's advisable to keep an eye on the weather forecast. A storm that stays offshore, even at some distance, can cause foul beach conditions; surfers love the big waves that precede a storm, but they know the danger of powerful tides, strong undertow, rip currents, and the general unpredictability that storms bring. Not unique to this region, the risk is the same anywhere on the North Carolina coast.
Barring storms, fall is a fabulous time to visit. Days and nights are still warm, the ocean is swimmable, and the crowds are smaller. Mild weather often holds through the end of October into November, but the water becomes chilly for swimming then, although air temperatures are still nice for strolling on the sand.
Information and Services
Hospitals in the area include Carteret General Hospital (3500 Arendell St., 252/808-6000) in Morehead City, Carolina East Medical Center (2000 Neuse Blvd., 252/633-8111) in New Bern, Vidant Duplin Hospital (401 N. Main St., 910/296-0941) in Kenansville, Lenoir Memorial Hospital (100 Airport Rd., 252/522-7000) in Kinston, and Wayne Memorial Hospital (2700 Wayne Memorial Dr., 919/736-1110) in Goldsboro.
Extensive travel information is available from the Crystal Coast Tourism Authority (3409 Arendell St., 800/786-6962) in Morehead City.
---
Excerpted from the Fifth Edition of Moon North Carolina.