Lake Michigan
TIME : 2-22 16:43:54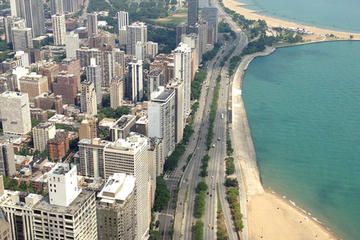 Lake Michigan
Chicago sits on the shores of Lake Michigan, one of the five Great Lakes, which stretches from western Michigan, 118 miles across, to the shores of Illinois and Wisconsin in the west and Indiana in the south.  The lake borders the city of Chicago, and within the city limits there are 26 miles of shoreline, 15 beachfront areas and several marinas housing thousands of boats. In fact, Chicago operates the nation's largest municipal harbor system, making it easy to get out on the water by boat. There's even an 18-mile park, the Chicago Lakefront Bike Path where locals and visitors walk, bike and run along the shoreline.
In warmer months, it's possible to kayak or canoe on Lake Michigan, with boat rentals available right downtown. More passive passengers can opt for a sail or a ride on a traditional schooner, or go for the luxury experience with a lunch, brunch, dinner or sunset cruise on an elegant multilevel ship with indoor and outdoor space and seating for up to 600 people. These cruises often include dancing, entertainment and drinks.
Back along the Lake Michigan shoreline, there's a beach for every taste. On the north side, Montrose Beach is laid-back and dog friendly, while in Lincoln Park, North Avenue beach is the place to be seen and hang out with friends. There's even a beach right downtown at Oak Street, which is the perfect spot to watch the Air and Water Show that takes place on and over the lake each August.