Muir Woods
TIME : 2016/2/22 16:44:52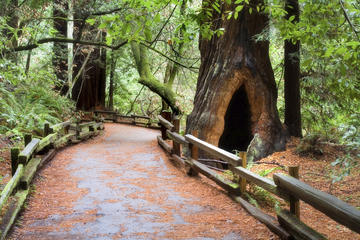 Muir Woods
Coastal redwoods are the tallest living things on earth, and walking among these giants is truly an awesome experience - one only to be had in Northern California and a small part of southern Oregon. Best of all, the old-growth redwoods at Muir Woods are only 12 miles (19 kilometers) north of the Golden Gate Bridge, the closest redwood stand to San Francisco. Even at busy times, a short hike gets you beyond the crowds, onto trails with mammoth trees and stunning vistas.
For an easy hike, try the 1 mi (1.5 km) Main Trail Loop, which run alongside Redwood Creek to 1,000-year-old trees at Cathedral Grove. It then swings back via Bohemian Grove, where the park's tallest tree stands at 254 feet (77 meters). The more adventurous should take the 2 mi (3.2 km) hike up to the top of Cardiac Hill, which treks through a steep grade of lush fir-fringed forest to an exposed ridge where you can see Mt. Tamalpais, the Pacific Ocean, and San Francisco.
You can also walk down into Muir Woods via trails from Panoramic Highway or from Mt. Tam's Pantoll Station campground. Whichever trail you choose, an encounter with these tall trees will be a memorable reward.
Practical Info
To get to Muir Woods, drive north on Highway 101, exit at Highway 1, and continue north along Highway 1/Shoreline Highway. Then take Panoramic Highway, a right-hand fork. Continue about 1 mi (1.5 km) to Four Corners, where you'll turn left onto Muir Woods Road.