Boeing Space and Flight Center
TIME : 2016/2/22 16:45:13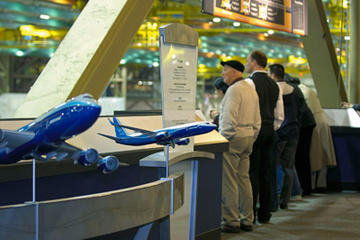 Boeing Space and Flight Center
Through the interactive learning zones of the Future of Flight Aviation Center Gallery, you'll learn just how far we've come in aviation design and where we're headed to in the future. The Boeing Tour is a one-of-a-kind opportunity to view 747, 767, 777, and 787 jets being assembled right before your eyes.The museum has a gift shop, restaurant, and a library dedicated to aviation.
Begin your journey in the Airplane Design Zone, where you'll learn all about the technological nuances and design innovations of powered flight. Step up to one of the design zone computers to begin digitally designing a commercial jet of your own. Then "taxi" on over to the other Gallery zones where you'll be able to modify, test and finalize your design at touch-screen computers before printing off the final schematic of your jet.
Practical Info
Located approximately 25 miles north of Seattle, The Future of Flight Aviation Center & Boeing Tour is the only public tour of a commercial jet assembly plant in North America. From Interstate 5 North or South, take Exit 189 and head west. Just past the Boeing assembly building, take a left at the four-way stoplight where Highway 526 intersects with 84th St. SW and Paine Field Blvd. The entry drive for the Future of Flight & Boeing Tour will be on your left.
Individuals must be at least 4 ft tall (122 cm) to take the tour and all tours are conducted in English. The Boeing Tour involves walking approximately one-third of a mile, climbing 21 steep stairs, riding an elevator 35 feet above the factory floor and walking through a tunnel. With advanced notice, special accommodations can be made for wheel chairs or physically challenged guests.