Beacon Hill
TIME : 2-22 16:45:28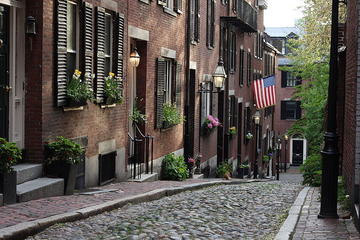 Beacon Hill
True, Beacon Hill may be home to the Massachusetts State House, the crown jewel of the neighborhood and focal point of politics in the Commonwealth, but the real appeal of this prestigious neighborhood lies in it beauty. Gas lanterns illuminate the cobblestone streets, while distinguished brick town houses come decked with purple windowpanes and blooming flowerboxes.
Beacon Hill's residential streets are reminiscent of London, and streets such as stately Louisburg Square indeed capture the grandeur that was intended. Charles Street, Beacon Hill's charming commercial thoroughfare, is Boston's most enchanting spot for browsing boutiques, haggling over antiques, or sipping a steaming cappuccino at one of the European-styled cafes. Stay for a fine dinner, made all the more romantic when it is enjoyed in such a delightful setting.
Boston Common, the country's oldest park, lies on its south end. Wander freely across this stately town green, crisscrossed with walking paths and dotted with monuments; tour the State House with its gold dome towers; wander amid the exhibits at the Museum of Afro-American History; or see the impressive tomes at the Boston Athenaeum. Or just spend an afternoon marveling at the elegant row houses or strolling along the Charles River Esplanade.
Practical Info
Beacon Hill extends north to Cambridge Street and west to the Charles River. The granite blocks of Suffolk University dominate the rest of the eastern end. The West End neighborhood lies north and Downtown and the Waterfront lies east. The MBTA subway, or the T, services the area with a number of stations, enabling you to visit a variety of sites.