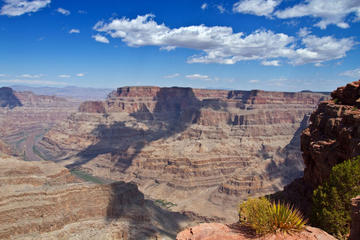 Grand Canyon West Rim
The Grand Canyon's West Rim, just outside Grand Canyon National Park, is home to the Havasupai and Hualapai tribes. The Hualapai Indian Reservation, created in 1883, covers nearly 1 million acres and includes 108 miles (173 km) of Colorado River and Grand Canyon frontage.
The West Rim area didn't really exist before 1988; that's when the 2,100 members of the Hualapai tribe decided to open their tribal lands to visitors. Since then the tribe has built some amazing features for visitors (notable the Grand Canyon Skywalk) and developed areas such as Guano Point and Eagle Point for their stunning canyon views.

The Grand Canyon West Rim is also home to Havasu Canyon. This mazelike canyon – filled with tall rock walls, cacti, cottonwood trees, and turquoise blue waterfalls – is a mecca for hikers. One of the highlights is the 8-mile (12 km) trek to the Supai Village, a must stop. A trail from Hualapai Hilltop drops steeply through a starkly beautiful landscape. Once you reach the village, you'll find a café, general store, and a post office.

Other activities in the Grand Canyon West Rim include river rafting and exploring the Grand Canyon Caverns, which are dry caverns created from lava and limestone.

Practical Info
The Grand Canyon's West Rim is located in Arizona and is 120 miles (193 km) from Las Vegas. Helicopter and bus tours from Las Vegas are popular ways to visit the Grand Canyon's West Rim.
To reach the Grand Canyon West Rim, head northwest out of Kingman on Highway 93, then turn right on Pearce Ferry Road. Take this road to Diamond Bar Road, which is signed for Grand Canyon West. Diamond Bar Road will take you to the Hualapai Indian Reservation. A little farther along, you'll come to the Grand Canyon West Terminal.