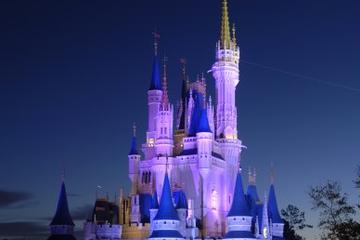 Walt Disney World
Walt Disney World, the world's biggest amusement park, is a self-contained city, covering an area twice the size of New York's Manhattan. Four main parks comprise the bulk of Walt Disney World: Magic Kingdom, Epcot, Disney's Hollywood Studios, and Animal Kingdom.
Magic Kingdom holds the park's centerpiece, the iconic Cinderella's Castle, which is surrounded by seven different magical lands. Plenty of rides beckon kids of all ages, from the shadowy indoor boat ride of Pirates of the Caribbean to the thrilling roller coaster Space Mountain. Storybook lovers will enjoy Animal Kingdom, with its unique blend of creatures real and fantastic, mixed with a healthy dose of Disney characters, storytelling, and magic.
At Epcot Center, a world culture taster awaits. Here, you can smell the incense in Morocco, listen to the Beatles in the United Kingdom, and east sushi in Japan. At Disney's Hollywood Studios you can watch tires scream, flames burst, motorcycles fly, and moving cars split in half. It's movie-making magic at its best.
Walt Disney World also has three water parks, a shopping district, 22 hotels, countless eateries, and transport systems. The park constantly evolves, and each year new restaurants and attractions make their splashy debut.
Practical Info
The interstate exits to all Disney parks and resorts are well marked. Along I-4, signs direct you to individual destinations. Disney resorts and official hotels offer free transportation via bus, monorail, ferry, or water taxi to all WDW properties. A free Walt Disney World Resort Map is available throughout the resort and at any Orlando visitor center.