The Breakers
TIME : 2016/2/22 16:46:33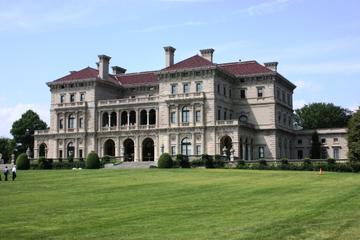 The Breakers
You'll find it hard not to be impressed at the opulence of The Breakers, the crown jewel of the Newport cottages. The 70-room four-story mansion was the summer estate of Cornelius Vanderbilt II, the grandson of railroad tycoon Commodore Vanderbilt. The grand structure, built in 1895, was designed by architect Richard Morris Hunt, who modeled it after 16th-century Italian Renaissance palaces.
Vanderbilt spared no expense in designing this lavish Guilded Age temple, installing a high entrance gate that weighs over 7 tons, using gold leaf and rare marble, and bringing in painters from Europe to create mural-size baroque paintings. Inside, all the furnishings on view are original. Outside, open-air terraces give way to breathtaking ocean views.
The Preservation Society of Newport County purchased the house in 1972, and today it is a National Historic Landmark.
Practical Info
The Breakers is located on Ochre Point Avenue. To visit, you must arrange a tour through the Preservation Society of Newport County. About a half mile west of the house is The Breakers Stable & Carriage House, which houses an exhibit on New York Central Railroad.