Little Havana
TIME : 2-22 16:47:06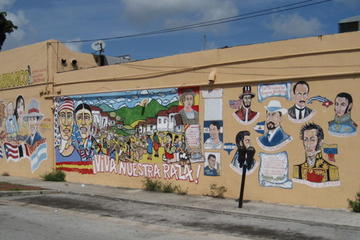 Little Havana
A vibrant Hispanic culture permeates everything in Little Havana - colorful murals, monuments to heroes past and present, elderly men playing dominoes as they discuss politics, and cigar rollers deeply at work amidst Little Havana's ever-present aroma of Cuban coffee. These scenes of daily Little Havana life play out amidst a backdrop of Little Havana's pulsating music, vibrant storefronts, unique art galleries and quaint restaurants.
The neighborhood's colorful spirit unfolds on Calle Ocho, Little Havana's bustling main street, packed with shops and restaurants. Farther down Calle Ocho, between SW 15th and 17th avenues, the Arts District contains a string of studios and galleries that showcase some of the best Latin American art in the country. Nearby, the Bay of Pigs Museum & Library enshrines the crew of the ill-fated Bay of Pigs invasion. The two blcoks SW 13th street, south of Calle Ocho, contain a series of monuments of Cuban patriots and freedom fighters.
Practical Info
The Miami River separates Little Havana from downtown Miami on the northeast border. The center of Little Havana is Calle Ocho (SW 8th Street), between NW 22nd Avenue and SW 10th Avenue. You can get to Little Havana via the Metromover train or by bus. If you're coming by car, take I-95 to NW 7th Street.