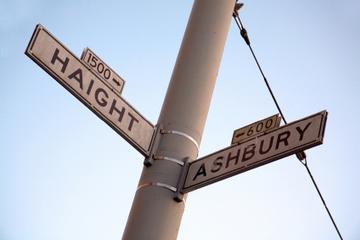 Haight-Ashbury
Haight-Ashbury is one of the most famous neighborhoods in San Francisco. The neighborhood is most famous for its role as a center of the 1960s hippie movement, reaching a peak in 1967, the "Summer of Love". With this liberal backdrop, modern American counterculture has been synonymous with San Francisco and the Haight-Ashbury neighborhood ever since.
The area still maintains its bohemian vibe, and it's fun just to people watch. In one afternoon you can see a mix of aging flower children, former Dead-heads, musicians, tourists, homeless people, and hip urban professionals going about their day.

The neighborhood is also a thriving center of restaurants, bars, trendy clothing boutiques, booksellers, head shops, and record stores. It's also home to the famous Ben & Jerry's Ice Cream shop, located at the intersection of Haight and Ashbury streets.

Other attractions in the surrounding blocks are the The Red Victorian hotel, the 'Painted Ladies' Victorian houses, and Golden Gate Park. Haight-Ashbury is a vibrant center filled with all sorts of non-tourist attractions. Spend a day strolling the neighborhood, and watch its intoxicating human theater unfold.
Practical Info
Haight-Ashbury is in the Upper Haight section of the Haight neighborhood, near Golden Gate Park. The neighborhood itself generally is bounded by Stanyan Street and Golden Gate Park on the west, Oak Street and the Golden Gate Park Panhandle on the north, Baker Street and Buena Vista Park to the east and Frederick Street and Ashbury Heights and Cole Valley neighborhoods to the south. Haight-Ashbury is easily accessible by public transportation.