New Orleans WWII Museum
TIME : 2016/2/22 16:47:32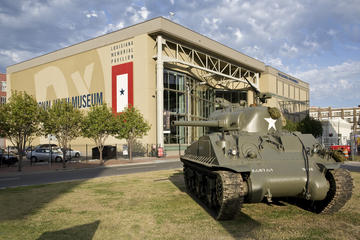 New Orleans WWII Museum
Located just off Highway 90 in the heart of the Warehouse District lies one of the most enticing, modern, and comprehensive World War II museums in all the country; New Orleans own World War II Museum. Rated a 29/30 on Google and scoring high marks across every major review site, the National World War II Museum (also known as the D-day Museum) explores the lives of the American men and women who took part in World War II through letters, recruitment posters, weapons, film, and even fighter plane replicas and a real Sherman tank.
Famous for its interactive exhibits, the New Orleans WWII Museum decided to take things one-step further and offer a 4-D experience in which chairs vibrate and shake, fog and lights bring the on-screen experience to life in something akin to a history-laden Universal Studios ride. In-line with its on-going efforts to bridge the gap between entertainment and education, the WWII Museum offers its guests a chance to visit the Stage Door Canteen; a restaurant which serves a delicious brunch (New Orleans-style, of course), and the meal is followed by a 17-piece Victory Big Band which plays covers of some of New Orleans great Jazz music classics. This is a family favorite to be sure.
Practical Info
This expansive and engaging modern museum is free for military personnel in uniform and for World War II veterans. General public admission costs $23. There is $7 parking on-site, but often times street parking is available. If you're looking for something educational to do while in New Orleans and are tired of the usual types of activities, head on down to the WWII Museum and catch something a bit different but very educational and always engaging.
Photo courtesy of The National World War II Museum