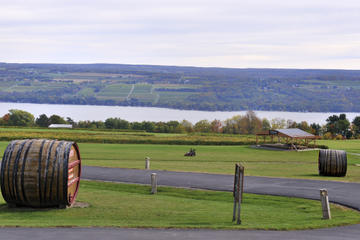 Finger Lakes
One of New York's premier wine regions and an area of relaxation, hiking and natural beauty, the Finger Lakes serve as an ideal getaway, whether coming for a weekend trip from New York City or making it the focus of a longer vacation. The Finger Lakes region is made up of numerous lakes, villages and towns, with the most popular and central being Skaneateles, home to the crystalline Skaneateles Lake and a walkable village of boutiques, churches and mom-and-pop purveyors. From here it's possible to conveniently explore the rest of the Finger Lakes, as well. Nearby, there are a number of beautiful scenic spots, waterfalls and trails for hiking and photography, such as Glen State Park and Taughannock Falls State Park.
In terms of wine, the region is known for its cool climate vitis vinifera varietals, French American hybrids and native grapes. There are over 100 wineries, and a fun way to get to know them is by exploring the three local wine trails: Cayuga Lake, Keuka Lake and the largest with over 30 wineries, the Seneca Lake Wine Trail. Along the way, visitors can partake in guided wine tastings and savor other local products such as cheeses, oils, herbs and chocolate.
Art is also an important part of the Finger Lakes culture, and a visit to the Rochester Folk Art Guild allows travelers to see the work of local artists through a variety of mediums. One should also visit The ARTS Council, home to a gallery, performances, lectures, music and more.
Practical Info
The most convenient way to get to Finger Lakes from New York City is by renting a car, which allows you to explore beyond the main towns near your hotel, as you'll find many sites and experiences are spread out.