Harvard Square
TIME : 2016/2/22 16:48:02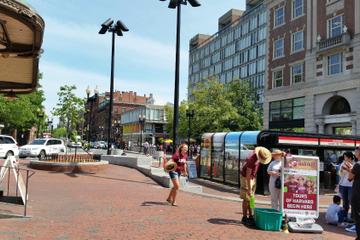 Harvard Square
This popular square is a thriving hub for street musicians and performers thanks to pedestrian-friendly streets and a deep-rooted history in the American literary scene (colonial Poet Anne Bradstreet once lived here). Travelers will find plenty of local life, as well as restaurants, shopping, an old-school newsstand and some public art installations, which make it easy to spend an afternoon here experiencing local life.
Skateboarders and punk-inspired high school kids can be found hanging out near a sunken area of Harvard Square known as "the pit", while a lively outdoor café hosts chess matches for willing passersby. A plethora of benches, sidewalks, terraces and cafes make it the perfect place to people watch in Cambridge.
Practical Info
Harvard Square is located near the center of Cambridge, Massachusetts near the intersections of Massachusetts Avenue, Brattle Street and John F. Kennedy Street. It is accessible via the MBTA Red Line subway and several buses.