U.S.S. Midway Museum
TIME : 2016/2/22 16:48:37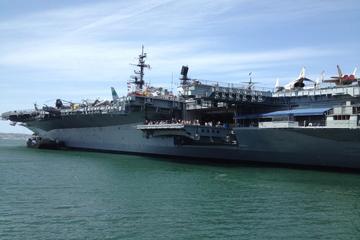 U.S.S. Midway Museum
Essentially a floating city, the U.S.S. Midway Museum is housed inside the namesake ship, formerly one of the U.S. Navy's flagships from 1945 to 1991. Aboard the hulking vessel, visitors can explore more than 60 exhibits as well as peak inside the museum's aircraft collection.
Exhibits in the U.S.S. Midway Museum include the engine room, the ship's brig, machine shops, and the crew's sleeping quarters. You'll walk along the narrow confines of the upper decks to the bridge, admiral's war room, and the control tower. On the ship's flight deck, you can walk right up to aircrafts, including an F-14 Tomcat, F-4 Phantom jet fighter, and an A-7 Corsair. Three flight simulators, music videos, films, interactive exhibits, and the Ejection Seat Theater round out this family-friendly experience.
Practical Info
The U.S.S. Midway Museum is located downtown at Navy Pier, on the San Diego Harbor. Nearby attractions include the Seaport Village, Embarcadero Marina Park, and the San Diego Children's Museum. The museum has a gift shop filled with unique gifts and clothing. You can get to the museum by car or trolley; arrive early, as parking is limited. Allow 90 minutes for your visit here, and be prepared to walk up and down a lot of stairs.