Napa Valley Wine Train
TIME : 2016/2/22 16:48:40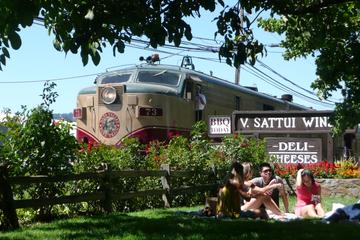 Napa Valley Wine Train
All aboard for the best train in the West! The beautiful and romantic Napa Valley Wine Train takes the most stunning parts of the Napa and Sonoma valleys and sandwiches them together in a spectacular glide through the rolling countryside. Watch the sun set from elegantly restored vintage Pullman cars as you sweep through the wandering valleys of Napa and Sonoma wine country sipping some of the world's best wine and nibbling exotic cheeses. Little could be more breathtaking or romantic than this train ride through some of the world's most famous wineries and some of the most beautiful land in California.
Perfect for those that don't have much time to spend in this little slice of heaven, the Napa Valley Wine Trail gives you a sweeping view of the Napa and Sonoma valleys while regaling you in luxury, history, and of course, superb wines. The Napa Valley Wine Train also offers three distinct and memorable dining options for your time aboard. Dine in the Vista Dome – a specially elevated railcar with 180-degree views of the countryside under antique dome windows (perfect for moonlit nights), relive the luxury and tradition of white-linen railroad dining in the Gourmet Express, or go Western in the open aired Silverado car where the food is served grilled and fresh.
This nostalgic train travel is repeatedly voted one of the best things to do in. Family owned and operated, it's a Napa tradition. Keep an eye open for special events like wine seminars and dinner theater.