Latourell Falls
TIME : 2016/2/22 16:50:06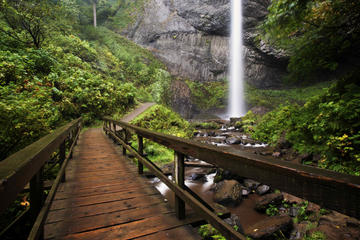 Latourell Falls
Of the many waterfalls along the Columbia River Gorge, Latourell Falls is closest to Portland – which means it attracts plenty of visitors.
Most of the waterfalls in the Gorge have at least two levels, but Latourell Falls drops straight from its highest point to the bottom in one fall. Height estimates vary, but it's somewhere between 224-249 feet tall depending on what you read. The creek that makes up the waterfall, Latourell Creek, isn't very large, so in the dry summer months the waterfall can sometimes decrease to a trickle. In the winter, however, it's quite impressive.
Latourell Falls are named for a former postmaster general of nearby Rooster Rock in the late 1880s, Joseph Latourell, and are within the Guy W. Talbot State Park. The bottom of the falls is easily accessible – there's a parking lot nearby – and there's a two-mile trail to reach the top of the falls.
Practical Info
To reach Latourell Falls from Portland, drive east on Highway I-84 to Bridal Veil, then take the Historic Columbia River Highway until you see the Latourell Falls parking lot. It's roughly 30 miles from Portland. You can sometimes see Latourell Falls from the highway.