Honey Island Swamp
TIME : 2-22 16:50:37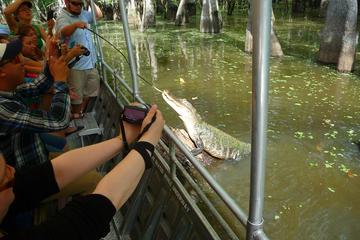 Honey Island Swamp
Renowned as one of the wildest and most unspoiled swamplands in the United States, the murky, algae-coated waters of the Honey Island Swamp are a prime habitat for native wildlife, including alligators, but if you believe the legends, the lake is home to an even more menacing resident. The notorious Honey Island Swamp monster has long been a figure of local legend, although the alleged sightings of the mysterious Big Foot like creature are yet to be proven.
Stretching for 18 miles (30 km) and surrounded by dense forest and overhanging cypress trees, the wetlands are best explored by boat, where you'll paddle through the shallow backwaters and have the chance to spot wild boar, raccoon, mink, otters and turtles, along with a huge variety of birdlife.
Practical Info
Honey Island Swamp is located in St Tammany Parish in eastern Louisiana, approximately 37 miles (60 km) northeast of New Orleans.