Yukon Territory
TIME : 2016/2/22 16:51:17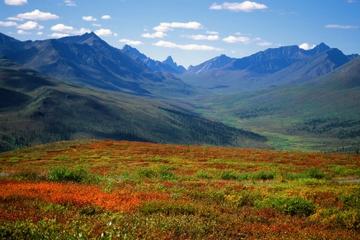 Yukon Territory
The name Yukon is evocative as well as descriptive: adventure, the far north, wilderness, moose. In the vast and thinly populated Yukon Territory, where most species far outnumber humans, is a grandeur and beauty only appreciated by experience. Getting here is part of the thrill and even the roads have their own lore.
Any visit to the Yukon Territory will mean much time outdoors. Whether it's treks into Kluane National Park, canoe expeditions down the Yukon River, or Arctic explorations in the north, it will be you and the Yukon. Yes, the summers are short, but like the explosion of wildflowers in July, they are intense, magnified under the near-constant light. Fall comes early but with its own burst of color as leaves turn shocking shades of gold and crimson. In winter, you'll understand why so many would never leave, as the season is filled with days of utter quiet to contemplate the snowy solitude. Join the offbeat vibe of Dawson City, the bustle of Whitehorse, and the unique character of villages throughout. It's truly an unforgettable experience.
Practical Info
There are three major ways to reach the Yukon Territory: by ferry, you enter through Skagway and Haines; by car, you can reach the territory by the Alaska Highway from Dawson Creek, B.C., and by the Stewart-Cassiar Highway from northwest BC, which that joins the Alaska Highway near Watson Lake.
You can reach the town of Whitehorse from BC by bus. From there a patchwork of companies provides links to Skagway and Dawson. The Alaska and Klondike highways are paved and have services every 60 miles (100 kilometers) to 120 mi (200 km).
You Might Also Like