Mount Rushmore
TIME : 2-22 16:52:16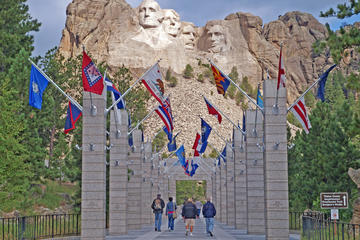 Mount Rushmore
Every person with an interest in history needs to visit Mount Rushmore. Lest you think the presidential carving is simply men set in stone, there's much more to this national memorial than what famously meets the eye. In addition to the legendary granite carvings of four American presidents, the Mount Rushmore National Memorial is an ode, treatise and patriotic lesson on America's democracy and history.
Inside the memorial's visitor center, numerous videos and interactive displays provide a thorough overview of American history that rivals a college course. Beneath the cliff, the half-mile Presidential Walking Trail offers sweeping views of the sculpture, which is ceremoniously illuminated on every summer night. After educating yourself at the memorial's museum and strolling the network of trails, participate in a guided ranger talk at the adjoining sculptor studio. Here you'll see the actual tools that were used in creating the massive sculpture, and hear the trials and tribulations of bringing the mountain to life.
Practical Info
Mount Rushmore is approximately 30 minutes southwest of Rapid City, South Dakota. There's no entrance fee to visit the site, but there is a memorial parking fee of $11 per car. In summer, the site is open daily from 8am-10pm, which is shortened slightly to 9pm from mid-August through September. In winter, the site remains from 9am-5pm on every day but Christmas.