Blue Hole National Park
TIME : 2-22 9:58:04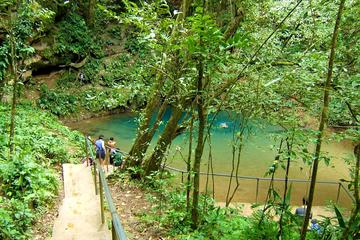 Blue Hole National Park
Belize's Blue Hole National Park (officially St Herman's Blue Hole National Park) sits near the capital city of Belmopan and is home to two cave systems (Crystal and St. Herman's), along with nature trails and the jungle pool that gives rise to the park's official name.
The caves are the main attractions in the park, with the cave and hole connected by an underground stream. The Blue Hole pool was formed by an underground limestone cave that collapsed, creating the sapphire blue pool at the bottom of the cenote. Visitors also typically visit Crystal Cave, also called Mountain Cow Cave, which can be seen on a guided tours through the Mayan underworld known as Xibalba. 
The park has a series of small trails, many of which are good for birding, as the forest canopy is low-lying. Birds spotted in the region include jacamars, blue-crowned motmots, scarlet-rumped tanager, nightingale wren and the long-tailed hermit hummingbird. 
Practical Info
St. Herman's Blue Hole National Park is just off Hummingbird Highway, about 12 miles southeast of Belmopan. There are two entrances. If you enter at St. Herman's Cave, there are trailheads, picnic facilities and a visitor center and gift shop. The other entrance is close to the Blue Hole pool and also has a small picnic area. As you may get wet, it's recommended to bring a change of dry clothes. Pack sunblock and bug spray as well.