Calabash Cut - Belize
TIME : 2-29 9:33:49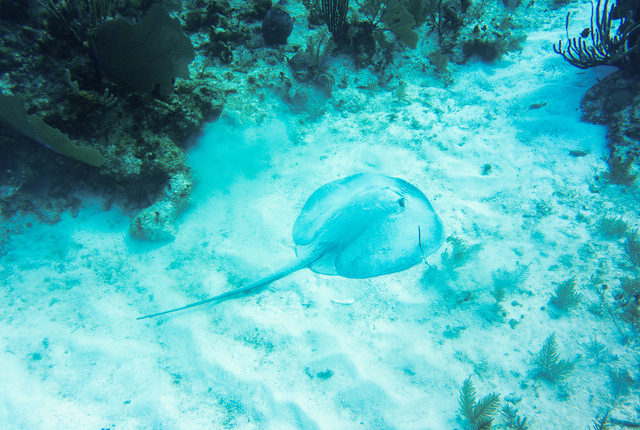 Making the First Cut
My first time sinking into the deep blue sea in my scuba gear happened at Calabash Cut, which just so happens to be one of the most remarkable diving locations in all of Belize. Dom Evans, our brilliant PADI instructor, put us through our training paces near the Blackbird Caye Resort, but this was our first real test – our first time descending more than 10 feet below the surface, our first time practically applying the knowledge we learned during the first few days of our PADI instruction.
To say that Dive Number 1 was a success is the understatement of a lifetime. Yes, we worked through our skills while on the surface and then under water, but we were also exposed to the treasures of the sea for the first time – upon hitting the sea floor at roughly 20-feet, we saw this beautiful ray going about his business, then another floating along on a current, and more brilliantly colored fish than I though could ever exist in one place. As a bonus, we didn't run out of air, nor did we get tangled up in our own lines while trying to achieve neutral buoyancy. All in all, a first dive I'll never forget so long as I live.
Photo Finish:
Nikon 1AW1 | 11-27.5mm f/3.5-5.6 lens | Aperture f/5.6 | ISO-160 | Shutter 1/160 sec.