Metropolitan Cathedral (Catedral Metropolitana)
TIME : 2016/2/22 10:42:12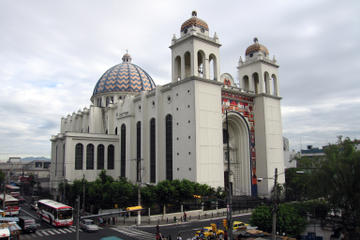 Metropolitan Cathedral (Catedral Metropolitana)
The national cathedral of El Salvador may not offer the same old-world architectural charms—like ornate stone work and detailed religious statues—of its European counterparts, but the iconic white Roman Catholic church is still a stunning monument and homage to San Salvador's deeply religious roots.
Once the site of a violent massacre where some 40 people were killed during a stampede at the funeral of Archbishop Oscar Romero, today the iconic structure offers a bit of peace and tranquility for visitors to this capital city. The white façade gives way to a colorful interior, where images of the Divine Saviour and a four-column bladcchino bless the main altar. Travelers can spend a moment in quiet contemplation, light a candle, and take in the massive paintings that depict moments in the life of Christ while on a visit to the nation's most famous cathedral.
Practical Info
Metropolitan Cathedral is located near the Cuscatian Avenue and 2a Calle Oriente at Plaza Barrios. It is open from 8 a.m. until noon and from 2 until 4 p.m. daily.
You Might Also Like