Guadalajaras Centro Historico
TIME : 2016/2/22 11:58:41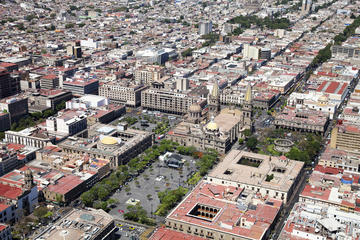 Guadalajara's Centro Historico
By new world standards, Guadalajara is an old city. This is most evident in the downtown district, with its Colonial plazas, its 400-year-old churches, and its numerous venerable old buildings, including the Palacio del Gobierno, the Teatro Degollado, and the sprawling Instituto Cultural Hospicio-Cabañas. In fact, the majority of Guadalajara's historical attractions are within walking distance of the city cathedral.
Wandering is facilitated by pedestrian mall streets and the seven-block Plaza Tapatía, which is studded with modern fountains and sculptures. Three additional downtown plazas are excellent places for people watching, especially on Sundays, when the locals come out to flirt, stroll, and spend family time. If people watching gets old, there's more to see: Guadalajara's historic buildings house some of Mexico's, and indeed the world's, finest murals, including José Clemente Orozco's famous frescos at the Instituto Cultural Hospicio-Cabañas.
When evening rolls around, there's no need to leave the neighborhood. Dine on Guadalajara specialties like savory
birria
de chivo
at Birreria Las 9 Esquinas (Colon 384) or head over to La Maestranza (Maestranza 179), a classic bar that offers a true Guadalajara experience, with inexpensive drinks, matador decor, live music, flamenco dancing, tapas, and plenty of tequila.