Palacio de Gobierno (Governors Office)
TIME : 2-22 11:58:49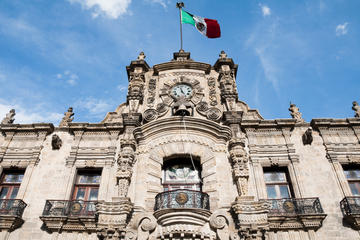 Palacio de Gobierno (Governor's Office)
Just south of the cathedral and facing the pretty Plaza de Armas, you'll find the imposing governor's palace. The two-story building is massive, baroque, and beset with snarling gargoyles, but the façade is far less interesting than the building's illustrious history and unique interior.
The palace was completed in 1790. Father Miguel Hidalgo occupied the building in 1810, during the Mexican War of Independence. A radical priest with a taste for wine and women, Hidalgo crusaded for human rights; it was here in the governor's palace that he issued his famous proclamation to abolish slavery. Later, during one of Mexico's numerous small civil wars, Benito Juarez, "Mexico's Abraham Lincoln," also occupied the building. When opposing forces entered the city, Juarez was captured outside the palace and very nearly executed. The guns of a firing squad were lined upon him when the novelist Guillermo Prieto jumped forth to shield Juarez. Supposedly he cried "
los valientes no asesinan
," (the brave don't murder) and the soldiers lowered their rifles.
The interior of the Palacio de Gobierno reflects the building's storied past. The principal stairwell is emblazoned with a dramatic image of Father Miguel Hidalgo, backlit by the fires of revolution. The mural wraps up the stairs, depicting the history and imagined future of Mexico. The paintings are the work of one of the world's preeminent muralists, Jose Clemente Orozco, and offer a good crash course in Mexican history. A smaller upstairs mural depicts Hidalgo signing the decree to abolish slavery—this mural was Orozco's last work.
Practical Info
Open daily from 9am-8pm. Admission is free.