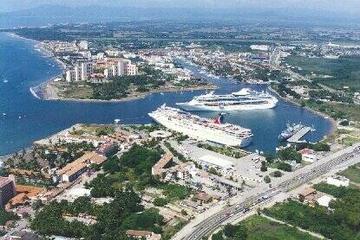 Puerto Vallarta Cruise Port
Sail into the calm Bay of Banderas for a warm Mexican welcome at Puerto Vallarta. This lovely beach resort city is on the mid-west coast of Mexico, lapped by the Pacific Ocean. Make your way downtown from the Marina Vallarta Maritime Terminal for an aquatic, eco-friendly or relaxing shore excursion.
How to Get to Puerto Vallarta
If your ship is mooring at Puerto Vallarta, you'll dock at the Marina Vallarta Maritime Terminal, 3 miles (5km) north of the city center. Alternatively, your ship might anchor just offshore, in which case a tender will float you ashore. Taxis line up to take you downtown; negotiate the fare (around US$5) before you head off.
One Day in Puerto Vallarta
Puerto Vallarta's number one attraction is the beach, and the full-facility resorts lining the sands. After soaking up the rays, take a leisurely stroll along the waterfront promenade to shop for silver jewelry and ceramics, sculptures and glassware. Soak up the colonial architecture and cobblestone streets on a Small Group City Tour, and if you're docked for the evening take a sunset cruise across Banderas Bay and dine on the sands by candlelight.
Or spend the day getting up close and personal with dolphins or sea lions, or setting sail for snorkeling and swimming on a day trip to Marietas Islands. Other eco-escapades take you zipping across the rainforest canopy, or cutting trails through the coastal mountains on an ATV adventure.
Port Information
Puerto Vallarta is a popular cruise port, visited by cruise liners operated by Holland America, Royal Caribbean, Carnival, Princess Spanish is the local language, but English is widely spoken and understood in Puerto Vallarta. The local currency is Mexican pesos, and you'll find it's cheaper if you use pesos rather than US dollars. There are ATMs throughout Puerto Vallarta.