Eknakán
TIME : 2-22 12:01:24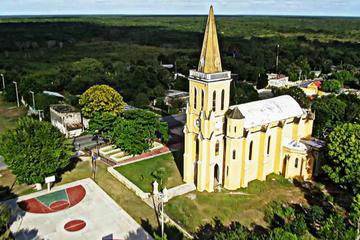 Eknakán
The Yucatan Peninsula is not a common place to find a German Gothic style church — which is what makes Eknakán an interesting small village to experience. The yellow church stands tall over the center of town, with stained glass created colored light throughout. It is known as the Iglesia de la Soledad (Church of Solitude) and acts primarily as a museum.
Eknakán is the site of one of many haciendas, or plantations, in the Yucatan. There is typically a gathering of colonial buildings next to fields, including a main house and a large square. The one here was originally built as a cattle ranch, and transformed for the production of henequen (a type of agave plant.) Translated Eknakan means 'dark house of the snake.'
There is also a particularly beautiful cenote just south of Eknakán called Papakal, with fresh, cool water and dozens of stalagmites and stalactites.
Practical Info
Eknakán lies southeast of Merida between the towns of Acanceh and Cuzamá, about 4 kilometers from Cuzamá via the Carretera Acanceh–Cuzamá.