Mural Diego Rivera
TIME : 2016/2/22 12:02:05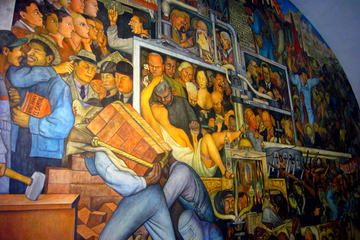 Mural Diego Rivera
Formerly known as Exekatlkalli (the "House of the Winds") the Mural Diego Rivera was once the home of Dolores Olmedo, the final lover of Mexican master artist Diego Rivera. He spent the last years of his life with her here, and in 1956 created his final mural.
It is an outstanding piece, made of mosaic tiles, and depicts at its center Quetzalcoatl, the Feathered Serpent of the Aztec religious pantheon. Other figures include a frog (a reference to Dolores' pet name for him) and a hammer and sickle, symbolizing his continued commitment to communist ideals.

There were plans to turn the Mural Diego Rivera into a museum, and for several years the interior was conserved, including several sketches and paintings by Rivera. However, the house was recently sold, though the Mural Diego Rivera, outside, remains in public view, the cultural pride of Acapulco.
Practical Info
Casa Olmedo is located on Cerro La Pinzona, the cross-topped hill just west of town past the Terminal Maratima, close to the Hotel Casablanca. It's a 15-minute walk, or take a cab.