MacDonnell Ranges
TIME : 2016/2/22 9:42:35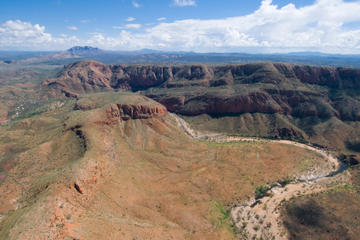 MacDonnell Ranges
Offering spectacular views both east and west of Alice Springs, the MacDonnell Ranges are a 400 mile (644 kilometer) stretch of mountain ranges. The ranges hold some of the Northern Territory's finest attractions including the ancient ghost gums and rock wallabies at the majestic Simpson's Gap, the stark beauty of Standley Chasm in the midday sun and the secluded waterholes of Serpentine Gorge and Ellery Creek Big Hole.
The ranges are dotted with micro-climates offering rare wildlife including the Centralian Tree Frog that lives in some of the very cold rock pools.
There are many sites of significance to the traditional owners, the Arrernte. These include ancient rock paintings at Emily Gap, Trephina Gorge and N'Dhala Gorge. You can also visit the old ochre pits where they quarried for ochre pigment.
Practical Info
The range is popular with bush walkers as the 140 mile (223 kilometer) Larapinta Trail runs along the ridge and into the plains below.
The Larapinta Trail is divided into twelve sections with most trail-heads close to the big-ticket attractions. Some access tracks are not suitable for buses or caravans and difficult in wet weather.

You Might Also Like