Etihad Docklands Stadium
TIME : 2016/2/22 9:43:54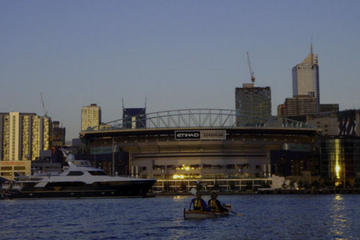 Etihad Docklands Stadium
Docklands Stadium is better known by the name of its current sponsor – Etihad. Formerly known as Colonial Stadium and then Telstra Dome, Etihad Stadium is a sports and entertainment venue in the Docklands area of Melbourne.
Easily accessible by tram from the CBD or a short walk from Southern Cross train station, the Stadium is the modern cousin of Melbourne's famed MCG (Melbourne Cricket Ground) and was built to act as the new main venue for Australian Rules Football (AFL).
The first stadium in Australia to feature movable seating, it also has a retractable roof and a grass covered, oval-shaped playing surface of 19,053 square metres (205,080 sq. ft.).
While the stadium is most commonly visited for AFL, rugby, and soccer games the largest number of attendees to visit on one single night was during a Robbie Williams Close Encounters Tour in 2006, which recorded a total of 64,619 visitors.
Docklands (Etihad) Stadium is located in the Docklands area of Melbourne, just west of the CBD and behind Southern Cross train station.
You Might Also Like