Birdworld Kuranda
TIME : 2016/2/22 9:45:43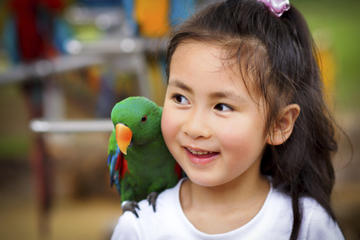 Birdworld Kuranda
Birdworld Kuranda is one of the largest free-flight aviaries in Australia. Built in 1995, Birdworld was designed to show visitors the beauty of birds in their natural environments. More than 500 birds are housed in the aviary, from all over the world. Cassowaries, parrots, lorikeets, Macaws from the Amazon, the Australian Black Swan, finches and more fly freely around the sanctuary. Of the 75 species that live in the aviary, 19 come from exotic locations, and many – including cassowaries and Macaws – are endangered.
As the birds in Birdworld have are used to people, they're quite tame, and can be hand-fed. The best time to see the birds is in the morning, or after lunch, when there are less people. The sanctuary is landscaped to look like a natural rainforest, with ponds, waterfalls, and both native and exotic plants.
Practical Info
Birdworld Kuranda is located at Kuranda near the Heritage Markets and is connected to both the Koala Park and Australian Butterfly Sanctuary. The park is a 30-minute drive from Cairns, though most visitors prefer to come via the Kuranda Scenic Rail or Skyrail Rainforest Cableway. It is open from 9 a.m. to 4 p.m. every day, with guided tours at 11:15 a.m. Birdworld Kuranda has wheelchair and disabled access. 
You Might Also Like