Brighton Beach
TIME : 2016/2/22 9:47:21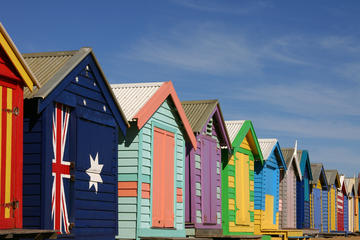 Brighton Beach
Charming and picturesque, Brighton Beach is a cove on Port Phillip Bay that is adored for its rainbow bathing boxes and views of Melbourne city skyline.
There is classic coastal feel to Brighton Beach, with its bayside cafes, boardwalk, yacht club, boutique shopping and two cinemas nearby. The cove is protected from southerly winds and patrolled by Surf Lifesavers, making it a safe place to swim if you can brave the water temperature.
Along Dendy Street beach, the bathing boxes have earned tourism icon status, offering a splash of colour against the white sandy shore, and giving the cove a European feel. There are 82 coveted bathing boxes in total, built to heritage standards with weatherboard and timber, and owned by local residents.
Practical Info:
Brighton Beach is a convenient coastal getaway for residents and visitors, located only 11km from central Melbourne, along the south-east edge of Port Phillip Bay. Public trams, trains and buses run from central Melbourne to Brighton Beach; buses 216 and 219 and trains on the Sandringham line are popular options.
Free parking available at Brighton Beach but arrive early to secure a spot. There is also paid parking costing $4 per hour. For a photo opportunity, park a little south at Green Point and follow the walking paths around the coastal point into Brighton to catch a view of the bathing boxes with the city skyline in the background.
You Might Also Like