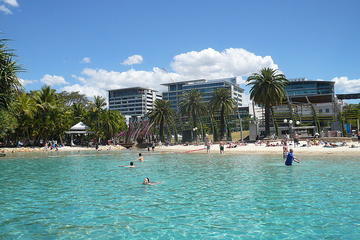 South Bank
South Bank is, as the name suggests, located on the southern banks of the Brisbane River in Queensland's capital city. Covering 42 acres (17 hectares), South Bank is home to lush parklands, restaurants, cafés and bars, and many, many events. The boardwalks and promenades threading their way along the riverside are popular with joggers and cyclists, and ideal for catching city views across to the CBD.
South Bank is perfect for a relaxing day out. The gardens are a mixture of rainforest, grassed areas, water features and plazas, leaving plenty of places for picnics in the many habitats. The river promenade is the main attraction, including the Grand Arbour covered in flowering bougainvillea, the Nepal Peace Pagoda, the open air amphitheatre of the Courier Mail Piazza, and many retail spaces. The most popular attraction of South Bank however, is the Wheel of Brisbane. A giant, almost 200ft (60m) tall Ferris wheel sitting on the banks of the Brisbane River, the Wheel of Brisbane gives visitors expansive, birds eye views over the city. On weekend evenings browse home wares, jewelry and collectibles at the South Bank Lifestyle Market.
Streets Beach is a main attraction of South Bank. A large, man-made beach covering 1.2 square miles (2 square km), Streets Beach is comprised of a huge lagoon, rocky creeks, and exotic plants, creating a mini-oasis in the center of Brisbane. The lagoon is also chlorinated and patrolled by lifeguards every day, making it one of the safest places for children to swim around the city.
Practival Info
South Bank is located directly opposite the city, and is connected to the city center by Victoria Bridge. Goodwill Bridge, in the south, also offers access across the river. South Bank is open from 5am until midnight daily, though individual attractions have their own operating hours.