Broome Crocodile Park
TIME : 2016/2/22 9:48:34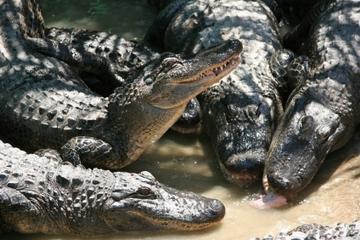 Broome Crocodile Park
Get up close to the snapping jaws at Malcolm Douglas' Broome Crocodile Park where you can meet baby crocs, alligators, freshwater crocs and ferocious saltwater crocs.
The park was originally set up as a research station and now you can come along and take a guided feeding tour to learn more about these fascinating creatures. The crocodiles measure up to 15 ft (5 m) and range in age from hatchlings to around 80 years old. You can even get a photo of yourself holding one of the oh-so-cute baby crocodiles.
Many of the crocodiles have been saved and relocated to the park after causing problems for outback communities.
Practical Info
Getting around Broome is easy on the Broome Bus. It travels between Chinatown and Cable Beach stopping at the crocodile farm along the way.
You Might Also Like