City Circle Tram
TIME : 2016/2/22 9:48:57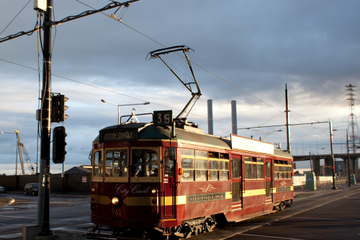 City Circle Tram
The City Circle tram is a free tram service that runs in a circular route around Melbourne's central business district and past many of the city's major attractions.
Easily spotted thanks to its burgundy, green and gold exterior, the tram is one of the few remaining heritage trams in operation in the city. Passengers can jump on and off at any of the clearly marked stops to explore the city and gain easy access to central transport hubs.
The service runs in both directions approximately every twelve minutes between 10am and 6pm Sunday to Wednesday and until 9pm on the other days and free commentary is provided relating to the sights along the route.
Places of interest on the route include: Parliament House; the Royal Exhibition Building; The State Library of Victoria; Flagstaff Gardens; Docklands; Melbourne Aquarium, the Immigration Museum, Flinders Street Station, St Paul's Cathedral, Federation Square and Treasury Gardens.
The only drawback to the City Circle tram is that the locals love it too! At peak times you may find that it's standing room only.
You Might Also Like