Evandale
TIME : 2016/2/22 9:49:36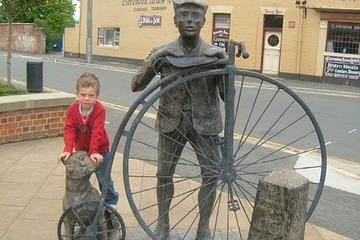 Evandale
One of Tasmania's highlights is its historic Georgian-era towns, and Evandale is no exception.
With its Main Street lined with National Trust-listed buildings, the immaculately preserved little town offers a glimpse into centuries gone by. The best way to explore Evandale is to take a stroll past heritage buildings like St Andrews Church, Blenheim, the Royal Oak and the saddler's shop.
Evandale comes to life on Sundays for the weekly market, featuring local produce and crafts.
The annual Penny Farthing Championship turns back the clock each February and brings more camera-toting visitors than usual to the little town. Participants dress for the occasion in late-Victorian dress, and Evandale's Main Street becomes the route for penny farthing races.
There are some historic grand homesteads in the countryside surrounding Evandale, revealing glimpses into colonial days. Visit 19th-century Clarendon Homestead to admire neoclassical Georgian architecture and stroll through manicured formal parklands.
Pubs, bakeries and cafes are another Evandale attraction, the ideal pit stop for local produce, coffee, Tasmanian wines and gourmet cakes. You'll also find antiques stores and local crafts shops.
Practical Info
Evandale is just 20km (12 miles) south of Launceston in the South Esk Valley. The best way to get here is by car or tour from Launceston.
You Might Also Like