Finke Gorge National Park
TIME : 2016/2/22 9:49:38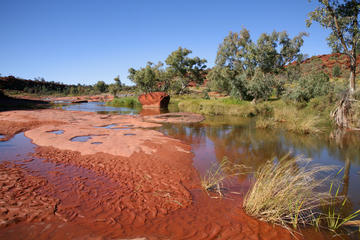 Finke Gorge National Park
Covering 177 square miles (46,000 hectares) and including a very surprising palm population. Finke Gorge National Park is not to be missed. The park is noted for its Aboriginal cultural sites and its ancient palms, which sit in an impressive desert oasis known as Palm Valley. The only site where the Central Australian cabbage palm can be found growing wild, Palm Valley is known for its rare and unique plants. The area is reminiscent of the ancient rainforests that once covered Australia.
Also of note within the park are the stunning and strange sandstone formations found in the Amphitheatre, a natural formation well worth a visit. A number of walking tracks can be found in the area, from the easy 45-minute return track to Kalaranga Lookout to the Mpaara and Mpulungkinya walks, each covering about three miles (5 km) and take about 2 hours to complete.
Practical Info
Finke Gorge National Park is an 86-mile (138-km) drive west of Alice Springs, taking approximately two hours. While much of the distance is coverable by all vehicles, access to the park itself is by 4WD only. The park is accessible when the Finke River isn't in flood, and it's best to visit from April to September. Camping is permitted within the park.