Woy Woy
TIME : 2016/2/22 9:53:29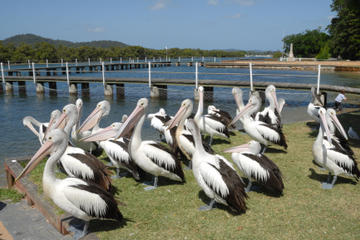 Woy Woy
Following in the Australian tradition of oddly named towns, Woy Woy takes its name from the aboriginal translation of "deep water," a fitting tribute to its unique coastal location. Sandwiched between Brisbane Water, Pittwater and the Hawkesbury River and an easy side-trip from Sydney, Woy Woy's scenic location and proximity to the Brisbane Waters National Park, make it a popular holiday destination for city dwellers.
Popular activities in and around Woy Woy include boat cruises, swimming and fishing, as well as hiking and bushwalking in the surrounding countryside, exploring the natural reserves of Rileys Island and Pelican Island or enjoying the views from the nearby Blackwall Mountain. The coastal region is also renowned for its delicious oysters, celebrated at the annual Oyster and Wine Festival, held in Woy Woy each November.
Practical Info
Woy Woy is located approximately 40 km north of Sydney, on the central coast of New South Wales and can be reached by train from Sydney.
You Might Also Like