The self-guided City of Sydney's historical walking tours (pick up a detailed map at any visitors center or print a PDF from www.cityofsydney.nsw.gov.au) include a tour of commercial and retail Sydney that is a must for lovers of architecture and shopping. The CBD is brimming with historic buildings, be they of Victorian or Art Deco heritage. Many either used to be old department stores or have evolved into modern shopping complexes in old shells. Explore the history of retail along Pitt Street and Martin Place, including the magnificent Queen Victoria Building, the Strand Arcade, and the Grace Hotel.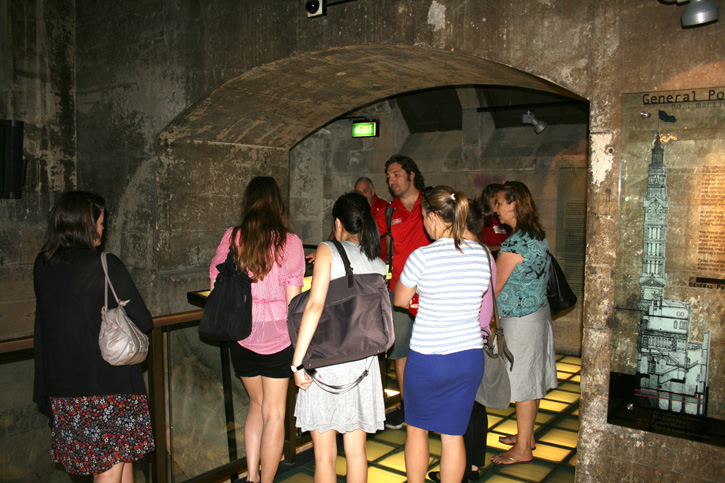 Did you know that the Aboriginals were classed under "flora and fauna," not people, until 1967?Explore Sydney's spooky side with
Ghost Tours
(meet outside Cadman's Cottage, opposite the Orient Hotel, 110 George St., The Rocks, tel. 02/9241-1283, Apr.-Sept. daily 6:45pm, Oct.-March daily 7:45pm, 2 hours, $42). Hear true stories about murder, suicide, hangings, hauntings, recent ghost sightings, and strange phenomena, while you walk along through the cobblestone lanes of the historic Rocks. Special Halloween tours are also available. The tours are geared toward adults, though between Sunday and Thursday 13- to 17-year-olds may attend with a paying adult ($33 per teen). Teenagers cannot attend on Friday and Saturday evenings.
A pub crawl through The Rocks with Sydney Pub Tours (meet inside the Mercantile Hotel, 25 George St., The Rocks, tel. 04/1966-9832, Mon.-Fri. 6pm-9:30pm, $125 including drinks and dinner, must be over 18) will show you the Australian pub culture while informing you about the colonial history of the old pubs and the area. Stop at five historic pubs, get a complimentary wine/beer/soft drink at each location, have dinner in one location, get access behind the scenes, learn plenty of information, and have fun along the way.
Sydney Urban Adventures (tel. 1800/459-388) offers walking tour options. The "Kings Cross Crime and Passion Tour" (from the Coke sign, corner William St. and Darlinghurst Rd., daily at 6pm, 2 hours, $40) explores the seedy and violent history of Kings Cross of the 1920s and 1930s; hear stories and see locations of murders, prostitution, gambling, and romance and try to imagine what it was like to live in this part of town in those darker times. Roughly following the Tank Stream, "Sydney with Conviction" (from Booking Centre, Wharf 6, Circular Quay, daily at 10am, 2 hours, $40) takes in the Sydney Harbour Bridge, The Rocks, Sydney Opera House, and the sights along the old Tank Stream route to Hyde Park.
I'm Free (Town Hall Square, 483 George St., CBD) offers free walking tours of Sydney: "Sydney Sights" (starting from the anchor on the Town Hall Square on George St., daily 10:30am and 2:30pm, 2.5-3 hours, free) heads up George Street, taking in sights such as Sydney Tower, the Talking Dog, Hyde Park Barracks, Martin Place, Sydney Opera House, and The Rocks. The tour ends at Circular Quay. "The Rocks" (meet in front of Cadman's Cottage, Circular Quay, daily 6pm, 1.5 hours, free) explores that area where Sydney began, including the lanes, Susannah Place, and Observatory Hill. You'll hear stories about the Rum Rebellion, Australia's largest bank robbery, evil murders, and the checkered history of the area.
The Rocks Dreaming Aboriginal Tour (from Cadman's Cottage, 110 George St., Circular Quay, tel. 02/8273-0000, daily 10:30am, 1.5 hours, adult $42, child $32, children under 8 free) was developed by Margret Campbell, a Dunghutti-Jerrinjah woman, and is led by Aboriginal guides who have her permission to share her cultural knowledge. You will learn about the country before the settlers, hear the local language, experience cultural traditions, and even get your hands dirty with some ochre painting. Did you know that the Aboriginals were classed under "flora and fauna," not people, until 1967?
If you are interested in water features, be it fountains, following the old Tank Stream, drinking fountains, sewers, or even old-fashioned toilets, the self-guided Walk on Water (pick up a detailed map at any visitors center or print a PDF from www.cityofsydney.nsw.gov.au) is a quirky walk that you can pick up from anywhere and follow at your leisure, exploring a different side of Sydney's history.
---
Excerpted from the First Edition of Moon Sydney & the Great Barrier Reef.