Shopping in Sydney for a unique gift or treat for yourself runs the gamut from fine jewelry to bargain-store trinkets to discovering a true hidden bookstore treasure. If you'd like a shopping experience as much about the hunt as the find, read on for some of Sydney's best independent and specialty shops.
Gifts
With 95 percent of the world's opals being mined in Australia, it seems to be an obvious souvenir and gift, but there are so many different varieties and range in quality that expert advice is needed. Australian Opal Cutters (3/295-301 Pitt St., CBD, tel. 02/9261-2442, Mon.-Fri. 9am-6pm, Sat. 9am-5pm, Sun. 10am-5pm) has one of the largest selections of opals in Australia and knowledgable staff who can advise you.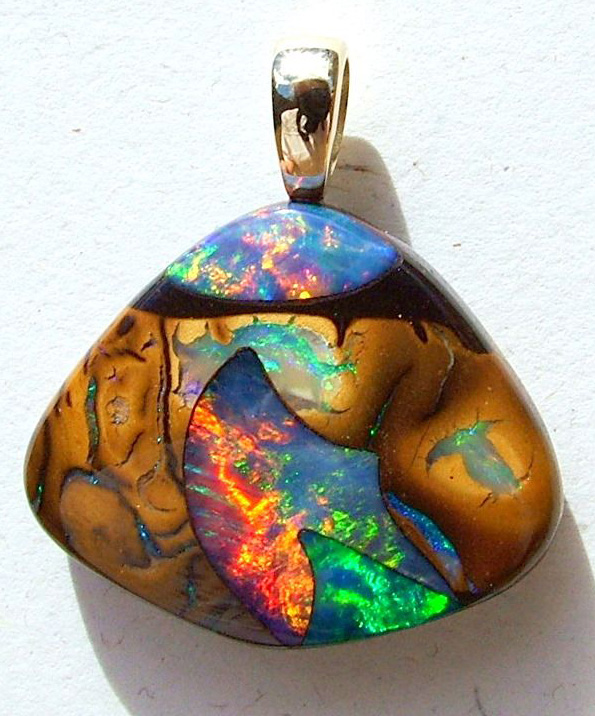 Australian Opal Cutters has one of the largest selections of opals in Australia and knowledgable staff who can advise you.
Gannon House Gallery
(45 Argyle St., The Rocks, tel. 02/9251-4474, daily 10am-6pm) offers a great selection of Aboriginal and contemporary Australian art pieces for sale, ranging from lantern domes painted in the naive style that depict the Sydney cityscape to huge dotted paintings. While the vast Aboriginal paintings often cost a small fortune, smaller pieces are also typically Australian, and they make great gifts or souvenirs.
The museum shop MCA (Museum of Contemporary Art, 140 George St., The Rocks, tel. 02/9245-2458, Thurs. 10am-9pm, Fri.-Wed. 10am-5pm) is the place to find gifts that are a little out of the ordinary, including handcrafted jewelry, bags, unique home wares, limited edition artists' books (often signed), stationery, coffee-table books, and prints.
If you are looking for something quirky, OPUS (344 Oxford St., Paddington, tel. 02/9360-4803, Mon.-Sat. 10am-6pm, Sun. 11am-5pm) is your store, with lovely journals, select travel guides, assorted Sydney walks on playing cards, small home decor items, kitchen wares, gadgets and novelty items for the office, and more. It is impossible to leave without a little something.
Victoria's Basement (Queen Victoria Building, George St., tel. 02/9261-2674, Mon.-Sat. 9am-6pm, Sun. 11am-5pm) is a cheap, fun place to rummage for home items and great, lightweight souvenirs such as linen tea towels imprinted with Australian themes or Sydney cityscapes. It's definitely worth a look while you're in the QVB.
Antiques and Curios
Located in the basement of the Metcalf Arcade in The Rocks, Bottom of the Harbour (Metcalfe Arcade, 80 George St., The Rocks, tel. 02/9427-8107, Tues., Wed., Sat., and Sun. 9:30am-5:30pm, Mon., Thurs., and Fri. 9:30am-3:30pm) specializes in maritime antiques, curios, and trinkets. You can find anything from ship's steering wheels to glass floating devices and old coins. It's fun to rummage through, and maybe you'll find a pirate's treasure.
Books
Ariel Booksellers (103 George St., The Rocks, tel. 02/9241-5622, daily 9am-late) is a lovely little bookshop specializing in coffee-table books covering architecture, art, design, and photography. It also sells the latest novels and a great assortment of kids' books. Together with its sister shop in Paddington (42 Oxford St., tel. 02/9332-4581, daily 9am-late), this is an independent venture and staffed by knowledgable and interested employees.
Probably Australia's best-loved book store, Dymocks (The Dymocks Building, 428 George St., CBD, tel. 02/9235-0155, Mon.-Fri. 9am-7pm, Thurs. till 9pm, Sat. 9:30am-5pm, Sun. 10am-5pm) is the Dymocks flagship store, going back to 1879 when young William Dymock commenced business as a bookseller in nearby Market Street. In 1922, the Dymock family started to build the historic, Art Deco landmark Dymocks building, completed in 1930. The store is very pretty, with an open mezzanine floor and wooden banisters keeping readers from toppling down. Dymocks has a great selection of books, some special offers, an assortment of great gifts, and a coffee shop in the back.
What goes together better than coffee and books? The cozy little Gertrude & Alice Café Bookstore (46 Hall St., Bondi Beach, tel. 02/9130-5155, weekdays 7:30am-11pm, weekends 7:30am-noon), lined with vintage books, was named after Gertrude Stein and Alice B. Toklas, and is always busy with people taking their time over their steaming cup of chai and browsing the shelves. There are some truly beautiful old editions of Australian kids' stories and many books paying homage to the owners' love of the 1920s and 1930s Paris literary circles.
Elizabeth's Books (343 Pitt St., CBD, tel. 02/9267-2533) sells both new and used books. An independent small bookstore, it offers little quirks the giant stores simply don't, such as a shelf full of books wrapped in brown paper, with merely two clues on the front as to what the story is about: "marooned on island" and "thriller," says one; "Australia" and "romance" says another. A great way to be a little more adventurous and discover new authors.
The Singaporean bookstore giant Kinokuniya (Level 2, The Galleries, 500 George St., CBD, tel. 02/9262-7996) is not quite as gigantic here in Sydney as elsewhere in the world, but it still has a fantastic selection of all current and classic books, with a nice travel corner. There's a good Asian selection, too, covering books about Asia, by Asian authors, and various Asian-language titles.
---
Excerpted from the First Edition of Moon Sydney & the Great Barrier Reef.