Coral Coast
TIME : 2016/2/22 10:49:32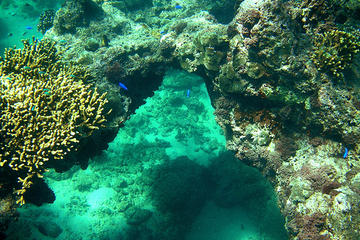 Coral Coast
With its sweeping bays, cloudy lagoons and wind-lapped palms surrounded by a patchwork of sugarcane plantations and pine forests, Fiji's Coral Coast strikes the perfect juxtaposition of package holiday paradise and traditional Fijian life. Luxurious spa hotels, eco resorts and backpacker hostels are dotted between the coast's sandy beaches and sleepy fishing villages, but the region's main draw cards lie inland.
Most travellers follow the scenic Queens Road along the coast, one of Fiji's most dramatic coastal drives, which winds its way between Sigatoka and Suva. Highlights include the dramatic landscape of the Sigatoka Sand Dunes National Park; the 18th-century Tavuni Hill Fort; the lush Sigatoka Valley; and the island capital, Suva. If sightseeing isn't your thing, head to Pacific Harbour, where adventurous types can try shark diving; enjoy fishing or scuba diving in the Beqa Lagoon; or go hiking or white-water rafting in the rainforest of the Namosi Highlands.
Practical Info
Fiji's Coral Coast runs along the south coast of Viti Levu island, between Sigatoka and Suva.
You Might Also Like