Yasawa Islands
TIME : 2016/2/22 10:49:35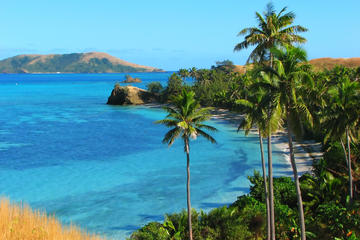 Yasawa Islands
The Yasawa Islands are unlike anywhere else in Fiji. Taller and more grandiose than the neighboring Mamanuca Islands, the remote Yasawas are less developed, less commercialized, and closer to the heart of traditional Fijian culture.
Up until 1987 village life on the Yasawa Islands existed much as it had since the area's original settlement. Handfuls of tourists began visiting the Yasawas in the 1950s, but it was forbidden to spend the night on shore and they were required to return to their ship. With the opening of the Yasawas to tourism, however, villagers opened up budget accommodations and entrepreneurs erected luxurious resorts. Despite the moderate growth, however, the Yasawas remain a secluded chain of 12 islands which are further from Nadi in both distance and mindset than the popular shores of the Mamanucas.
Reaching the Yasawa Islands is easy and straightforward for passengers on the Yasawa Flyer "yellow boat", which departs from Denarau Marina daily at 8:30 a.m. Once on shore on the island of your choice, the two largest activities in the Yasawa Islands are hiking to the summit of jungle-strewn peaks and scouring the corals of the offshore reefs. At night, take part in a traditional kava ceremony or dance the night away with late night entertainment. For accommodations, unless you're staying in an ultra-luxurious privately owned resort, many of the hotels in the Yasawa Islands are of the budget backpacker variety and feature mosquito nets, rain catchment systems, and the sound of waves lulling you to sleep each night. The Yasawas are developing quickly, however, and more moderately-priced accommodations are becoming available every year.
For many, the Yasawa Islands represent the white sand beaches of Fiji they had dreamt about, without the price tag their friends had warned them about. Despite only being two to four hours by boat from the Mamanucas, a visit to the Yasawas is a cruise back in time to when life was simpler and days were slow. It's an oceanfront hammock, a blank to-do list, and a verdant mountain peak exploding from a lagoon where you start your day with a swim each morning. Even though the islands take a bit longer to get to, the hardest part isn't arriving in the Yasawas, it's getting up and trying to force yourself to leave.
You Might Also Like