Denarau
TIME : 2016/2/22 10:49:39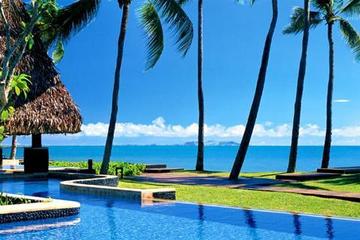 Denarau
A paradise created by man, Denarau Island is a manicured, resort-heavy island off the west coast of Viti Levu. The island has eight resorts to choose from, each kitted out with pools and floating bars to spare.
The hotels are also integrated and offer a selection of shared activities that include world-class golf, tennis, scuba diving and parasailing. Also on the island is excellent shopping and plenty of great dining options to suit everyone from families to honeymooners.
The beaches are not Fiji's best but his is made up for by the dazzling resorts, with their remarkable pools perfect for lounging around all day in the glorious sun for which Denarau is renowned.
Practical Info
Denerau Island is about 8 minutes from Nadi airport so it's a cheap taxi ride, otherwise many of the hotels have shuttles to the mainland so jump aboard one and you'll get to Denerau Island.
You Might Also Like