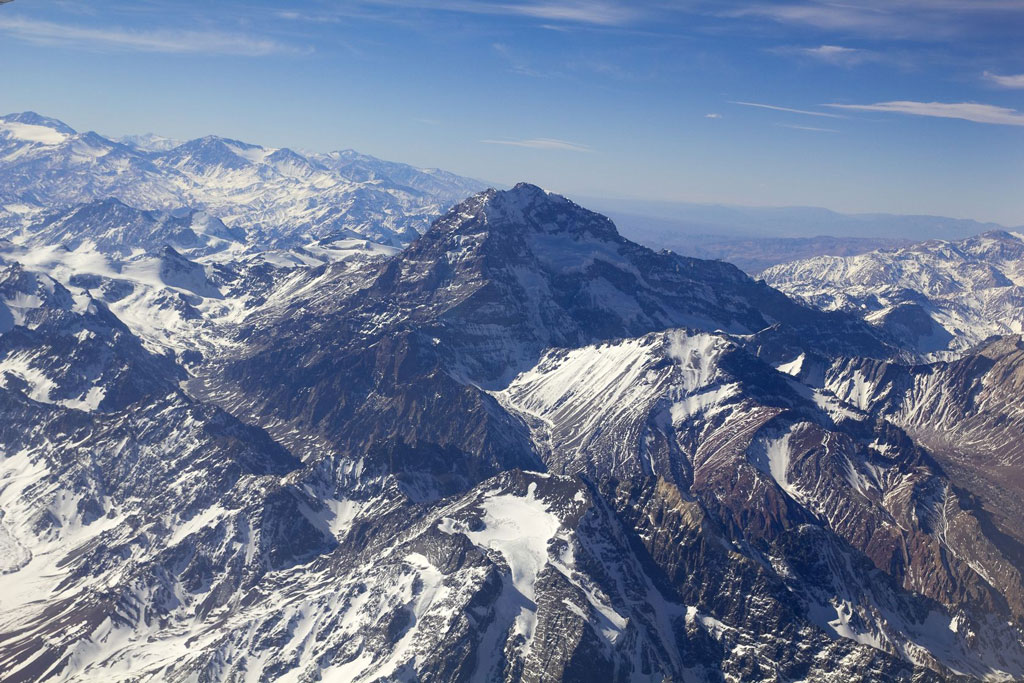 Approaching the Chilean border, Parque Provincial Aconcagua is the site of the province's most prominent attraction—literally so, as the bulky 6,962-meter Cerro Aconcagua is the "The Roof of the Americas," the highest peak on two continents.
Parque Provincial Aconcagua, encompassing 71,000 hectares, lies entirely north of RN 7. The main entry point is Laguna Horcones, four kilometers northwest of Puente del Inka, but there's also access via Punta de Vacas, 20 kilometers east.
Cerro Aconcagua
An irresistible magnet for climbers (and aspiring climbers) from around the world, Aconcagua also draws casual visitors in private motor vehicles and tour buses, as well as day-hikers and long-distance trekkers, to enjoy the big-sky views of the Andean high country.
Of the world's highest summits, Aconcagua probably draws the most climbers because the main route requires no technical expertise—simply good conditioning (and willingness to acknowledge physical limitations), suitable equipment, and the readiness to recognize when conditions become dangerous. The extreme and changeable weather, in particular, has claimed the lives of even experienced mountaineers: over 100 have died on the mountain, and there are fatalities almost every year, including five in the 2008–2009 season.
In 1897, Swiss climber Matthias Zurbriggen made Aconcagua's first confirmed ascent, but the 1985 discovery of an Inka mummy on the southwest face, at an altitude of 5,300 meters, demonstrated that pre-Columbian civilizations explored the wild high country of the central Andes. There is disagreement over the etymology of aconcagua—some claim the word comes from the Quechua language, and others from the Mapuche—but everyone recognizes its indigenous genesis. Geologically, the mountain consists of uplifted marine sediments covered by volcanic andesite.
Flora and Fauna
Discussions of Aconcagua rarely mention flora and fauna, partly because the mountain's sheer size and altitude overwhelm most other considerations, and partly because of the focus on climbing. Another reason is that, in the rain shadow of the Andean crest, the park is one of the most barren parts of the Andes, with only a discontinuous cover of prostrate shrubs and grasses. At the highest altitudes, it is almost pure scree and snow.
That doesn't mean it lacks wildlife, as the Andean condor soars above the ridges and summits, and lesser birds are also present along the watercourses that descend from its glaciers and snowfields. Mammals like guanacos and red foxes may be conspicuous, along with smaller rodents.
Hiking and Climbing
The main sight is Aconcagua itself, which is visible from RN 7, but there are better views from Laguna Horcones, about two kilometers north of the highway and about 20 minutes from the ranger station (though probably a bit farther than the 400 meters the trail sign suggests).
For day-hikers, the best outing is Confluencia, about eight kilometers from the ranger station, at an elevation of 3,368 meters. For a three-day camping trip, the best option is to Plaza Francia, another 13 kilometers to the north, at an elevation of 4,500 meters. This is the base camp for the highly difficult and technical Pared Sur (South Face), first ascended by a French group in 1954.
Most climbers take the longer but technically simpler Ruta Noroeste (Northwest Route) to Plaza de Mulas, 4,230 meters above sea level, where there is camping and even a hotel, and then try for the summit. Hikers can go as far as Plaza de Mulas, for which it makes sense to have a seven-day permit.
An alternative approach, longer than the Ruta Noroeste but less technical than the Pared Sur, is the Ruta Glaciar de los Polacos (Polish Glacier route), pioneered by Polish nationals in 1934. Starting at Punta de Vacas, 15 kilometers southeast of Puente del Inka, this route is less crowded than the others but more time-consuming and expensive.
Note that there are variations on all these routes. By whatever route, Aconcagua is a serious mountain that requires excellent physical conditioning, time to adapt to the great altitude, and proper gear for snow, ice, wet, and cold. People have done the summit in as little as seven days from Puente del Inka, but at least an additional week is desirable.
Accommodations and Food
Independent camping is possible at the base camps and along the trails, but tour operators and climbing guides monopolize the best sites during the season. It's also possible to stay and eat at the provincial Hotel Plaza de Mulas (tel. 0261/425-0871 in Mendoza, cell 0261/15-569-4652), which also features electricity, hot showers, telephones, and luggage deposit.
Because of the difficult logistics, though, prices are higher than for comparable services elsewhere. Rates for "Cuervo" dorm rooms are US$40 pp with breakfast, US$72 pp with half board, and US$102 pp with full board. More comfortable "Bonete" rooms cost US$50 pp with breakfast, US$82 pp with half board, and US$112 pp with full board; for "Aconcagua" rooms with private baths, the corresponding rates are US$70 pp, US$102 pp, and US$132 pp.
Other Practicalities
The main information post is at Los Horcones, where the rangers have good information and suggestions as well as supplying trash bags for climbers and trekkers; it's open 8 a.m.–9 p.m. weekdays, 8 a.m.–8 p.m. Saturday. There are also rangers at Confluencia, Plaza de Mulas, Las Leñas on the Polish route up the Río de las Vacas, and at Plaza Argentina, the last major base camp along the Polish route.
Both hikers and climbers must have permits; those with hiking permits may not continue beyond the base camps. In Mendoza, for most of the year, get permits from the provincial Dirección de Recursos Naturales Renovables (Avenida de los Plátanos s/n, tel. 0261/425-2090, 8 a.m.–6 p.m. weekdays, 9 a.m.–1 p.m. weekends), just inside the gates of Parque San Martín. In summer only, though, permits are available from the nearby Edificio Cuba, and in winter, hiking permits are available at Los Horcones itself (though climbing permits are not). In past years, however, permits have been available through the provincial Subsecretaría de Turismo in Mendoza, and this could change again. For the most up-to-date information, check the park's website, in Spanish and very readable English as well. Climbers must present proof of their experience and show their equipment.
Permit prices depend on season and nationality (there is now a differential pricing system for Argentines and resident foreigners and for non-Argentines). Low season runs November 15–30 and February 21–March 15, midseason is December 1–14 and February 1–20, and high season is December 15–January 31. Outside these seasons, fees are reduced.
Rangers collect a US$5 fee for the short walk to Laguna Horcones, and a US$20 fee for the day hike to Confluencia. For non- Argentines, three-day hiking permits cost US$47 except in high season, when they cost US$55. Seven-day permits (more desirable for their greater flexibility) cost US$68 in low and mid-season, US$105 in high season; climbers pay US$158 in low season, US$316 in mid-season, and US$474 in high season. Argentines and resident foreigners pay around one-third of these prices.
For more detail on hiking in the park and climbing Aconcagua, look for the improved fifth edition of Tim Burford's Chile and Argentina: The Bradt Trekking Guide (Chalfont St Peter, UK: Bradt Travel Guides, 2001), and for the second edition of R. J. Secor's climbing guide Aconcagua (Seattle: The Mountaineers, 1999).
Buses from Mendoza to Uspallata continue to Penitentes, where most hikers and climbers stay. From Penitentes, it's necessary to walk or hire a car to the trailhead at Horcones.
---
Excerpted from the Third Edition of Moon Argentina.